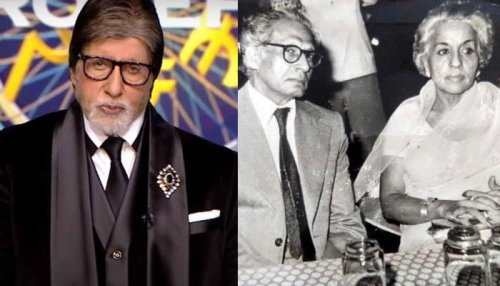 In a touching and insightful moment on the latest episode of the popular television show Kaun Banega Crorepati (KBC) Season 15, Bollywood icon Amitabh Bachchan shared a heartwarming memory of how renowned freedom fighter and poet Sarojini Naidu supported and consoled his father, legendary poet Harivansh Rai Bachchan, during a crucial period in their lives.
The revelation came following a question about Sarojini Naidu, to which contestant Yojana provided the correct answer with the assistance of three lifelines. Amitabh Bachchan, the host of KBC, took this opportunity to reflect on the deep connection his family shared with Sarojini Naidu.
During the episode, Amitabh reminisced about a significant event in his family's history. He mentioned that the legendary singer Begum Akhtar had performed at a fundraising event for earthquake victims in Bihar, where Sarojini Naidu was also in attendance. Sarojini Naidu, known for her appreciation of artistic talent, praised Begum Akhtar's singing prowess. It is believed that this appreciation encouraged Begum Akhtar to pursue singing as a profession.
Amitabh Bachchan then revealed a personal and touching aspect of his family's history. He shared, "I am a little hesitant to say this, but she (Sarojini Naidu) was also a big fan of my babuji (father). My babuji had an intercaste marriage. My mom, Teji ji, was from a Sikh family. At the time, we lived in Allahabad, and getting married in a different caste was labeled as a sin those days in that region."
He continued, "So at that time, people opposed my father when he brought my mother to Allahabad. So Sarojini Naidu was the first person who consoled him and even introduced him to Pandit Jawaharlal Nehru, who used to live in Anand Bhavan in Allahabad. I still remember the way she had introduced my father. She said, 'meet the poet and his poetry'."
This heartwarming revelation sheds light on the compassionate and inclusive spirit of Sarojini Naidu, who not only appreciated artistic talent but also supported individuals who challenged societal norms and prejudices. It also highlights the rich tapestry of India's cultural and social history, as well as the enduring legacy of the Bachchan family.
Amitabh Bachchan had previously discussed his parents' inter-caste marriage during an episode of KBC 13. He emphasized that despite initial opposition, their families eventually agreed, and the bonds were restored. He also mentioned that his father deliberately chose the surname Bachchan to avoid any caste identity, as their original surname was Srivastava.
In a recent blog post, Amitabh Bachchan expressed his joy and pride in his son Abhishek Bachchan's critically acclaimed performance in R Balki's latest film, Ghoomer. The veteran actor shared his delight at witnessing external validation of his belief in his son's talent and the appreciation received by the film and its cast.
Amitabh Bachchan's storytelling continues to captivate audiences not only on-screen but also through his poignant reminiscences and observations about life, family, and the ever-evolving world of Indian cinema.