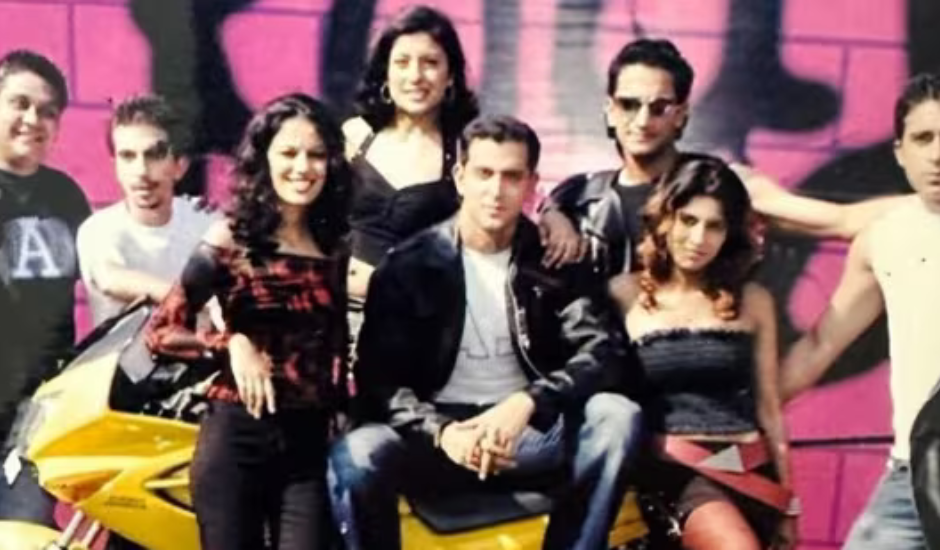 Rannvijay Singha, a name synonymous with adventure reality show MTV Roadies, recently stirred up nostalgia among fans by sharing throwback pictures from the show's inaugural season in 2003. Rannvijay, who not only emerged as the winner of Roadies 1 but also went on to host the show for the next 12 seasons, treated his followers to a glimpse of the past, featuring none other than Bollywood superstar Hrithik Roshan.
Taking to his Instagram account on a Friday, Rannvijay posted four pictures from the sets of MTV Roadies 1, capturing a special moment when Hrithik Roshan graced the show to present the contestants with the keys to their prized possessions – the Karizma bikes they had won as prizes.
In the shared photos, Hrithik Roshan can be seen seated atop a striking yellow Karizma bike, surrounded by elated contestants posing alongside him. Hrithik sports a casual look, donning a white T-shirt, dark blue denims, and a sleek black biker jacket. Rannvijay, standing just inches away, mirrors Hrithik's style with his own white T-shirt and dark denims. He casually drapes his jacket over one shoulder, showcasing his left bicep in a sleeveless white tee – a far cry from the robust beard and mustache he is recognized for today, except for a trendy goatee that was in vogue back in the early 2000s.
Captioning the cherished moments, Rannvijay wrote, "2003. Roadies 1, Final day, @hrithikroshan gave us the keys to our 'Karizma's.' L-R: Luv, @tonykordolia, Kriti, Natasha G, Hritik, @ranjitbajaj, Natasha R & Me. We hung out, we laughed, we danced… it was an amazing day. #donofroadies #legendsofkarizma."
Rannvijay's nostalgic post drew heartwarming responses from fans and fellow celebrities alike. Stand-up comedian Kenny Sebastian expressed his admiration, emphasizing the iconic status of Karizma bikes and the cultural significance they held for biking enthusiasts in India. TV actor Suyyash Rai, who rose to fame on MTV Splitsvilla 2 where Rannvijay served as a host, shared his sentiments and even recalled his audition for MTV Roadies 5, which ended in rejection.
Shiv Thakare, a contestant on MTV Roadies Rising, and actor Siddhanth Kapoor also chimed in with heart emojis and their own fond memories of the Roadies era.
Rannvijay Singha's journey has been nothing short of remarkable. He not only clinched victory in the first season of MTV Roadies in 2003 but also took on the role of host for 12 subsequent seasons until 2021. His hosting prowess extended to MTV Splitsvilla, a show he hosted from its inception to 2021, and Shark Tank India in 2021-22. He made his Bollywood debut in 2009 with "Toss: A Flip of Destiny" and gained further recognition as an actor in Netflix India's campus caper show "Mismatched," which garnered widespread popularity.
This nostalgic trip down memory lane by Rannvijay Singha serves as a delightful reminder of the enduring legacy of MTV Roadies and the unforgettable moments it created for both participants and viewers alike.
Sources By Agencies