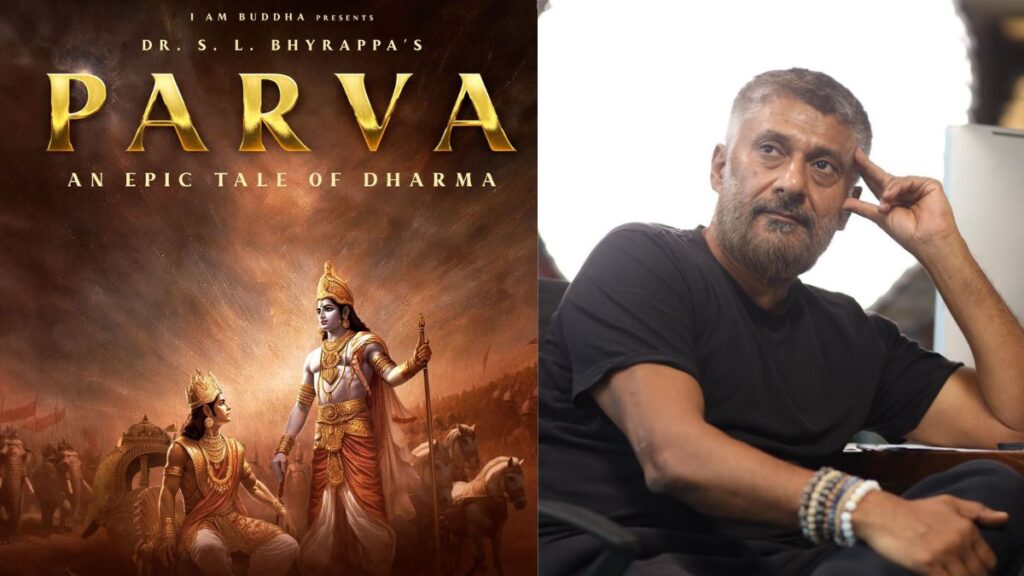 Veteran filmmaker Vivek Agnihotri, renowned for his thought-provoking and socially relevant films, has unveiled his next cinematic venture after the release of "The Vaccine War." Titled "Parva: An Epic Tale of Dharma," this film adaptation is inspired by the Kannada novel written by the legendary S. L. Bhyrappa. Notably, it's poised to be a trilogy film that will meticulously explore the epic narrative of the Mahabharata.
In an era where historical narratives and mythological sagas continue to captivate the Indian audience, Agnihotri is all set to embark on this grand cinematic journey, along with the support of his actor-wife Pallavi Joshi, who serves as the producer for the project.
Taking to his social media platform, Vivek Agnihotri shared the intriguing first poster of "Parva" and posed a fundamental question, "Is Mahabharat history or mythology?" He also expressed gratitude for the opportunity to adapt the "modern classic" by Padma Bhushan Dr. S. L. Bhyrappa. This iconic work of literature is often referred to as the "Masterpiece of Masterpieces."
"Parva: An Epic Tale of Dharma" has already stirred anticipation among film enthusiasts and history enthusiasts alike. It holds a unique position in literary and cultural spheres, having been translated into multiple languages, including English, Russian, Chinese, and Sanskrit. The book's universal appeal is underscored by its status as a best-seller in all these languages.
Vivek Agnihotri's cinematic vision aims to bring this iconic literary work to life on the big screen. As he passionately asserts, "What is Parva?" He believes that Mahabharata is the source of all stories, but the overarching question remains – is it history or mythology? After 17 years of intensive research, Padma Bhushan awardee S. L. Bhyrappa penned the modern classic, "Parva," and its adaptation into a cinematic masterpiece is a significant endeavor. This film will be released in three parts, and production has already commenced.
The celebrated filmmaker's last release, "The Vaccine War," featured a stellar cast and delved into pertinent social issues. While the film received a lukewarm response at the box office, Vivek Agnihotri continues to make waves in the film industry with his thought-provoking storytelling.
A testament to his commitment to storytelling and its impact on society, Vivek Agnihotri received the prestigious Nargis Dutt Award for Best Feature Film in the National Integration category for his 2022 release, "The Kashmir Files." Speaking about the recognition, he emphasized that it serves as a tribute to victims of genocide and persecution worldwide. He highlighted the importance of shedding light on religious terrorism and silent communities like the Kashmiri Pandits who endured 32 years of adversity. Through "The Kashmir Files," their voices can now be heard, serving as a powerful message and lesson for the world when humanity is absent from society.
Vivek Agnihotri's commitment to thought-provoking cinema continues with "Parva: An Epic Tale of Dharma," promising an engaging exploration of Mahabharata's timeless narrative.
Sources By Agencies