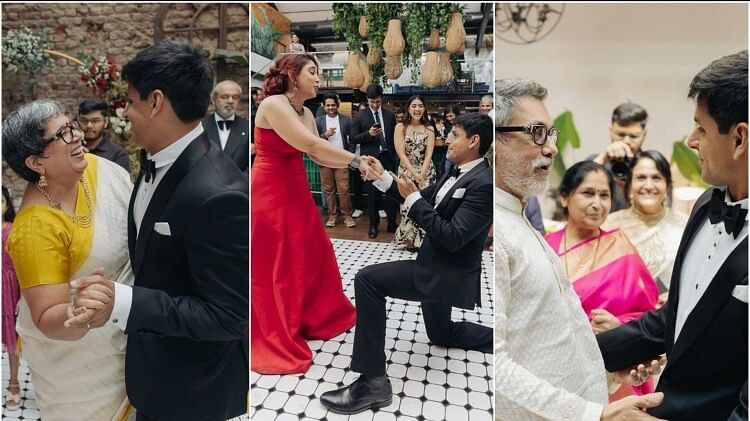 Ira Khan, the daughter of Bollywood superstar Aamir Khan, recently shared cherished moments from her engagement to Nupur Shikhare, which took place last year. The set of pictures includes snapshots of Nupur dancing with Ira's parents, Aamir Khan and Reena Dutta, as well as with her younger half-brother, Azad Rao Khan. Ira also offered a glimpse of Nupur's proposal and penned a heartfelt love note, expressing her unwavering support for him.
The collection of candid pictures features Nupur energetically dancing at their engagement celebration, accompanied by Ira's affectionate words: "Have you met the best decision of my life? He fills my heart." Ira also posted a video of Nupur's proposal and images of him dancing with his mother, Pritam Shikhare, Ira's mother, Reena Dutta, her father, Aamir Khan, and her half-brother, Azad Rao Khan. Ira mentioned that she would be part of Nupur's support crew as he gears up for another "Ironman" event.
In a love note dedicated to Nupur, Ira expressed her deep affection and appreciation, acknowledging his profound impact on her life and personal growth. She described Nupur as an integral part of her environment that has contributed significantly to her development. She confessed that it is challenging to convey the depth of her feelings but assured him that their love and connection were profoundly meaningful. The note ended with an expression of love and gratitude, emphasizing their relationship's multifaceted nature, filled with joy, companionship, and inspiration.
Ira Khan and Nupur Shikhare celebrated their engagement on November 18, 2022. Nupur is a professional fitness trainer, and the couple is scheduled to tie the knot on January 3, 2023.
The heartwarming pictures and love note shared by Ira provide a glimpse into the happiness and love that she and Nupur share as they prepare to embark on this new journey together.
Sources By Agencies