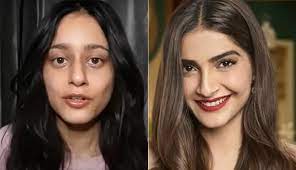 Bollywood actress Sonam Kapoor has recently sent a legal notice to a YouTuber who created a video poking fun at remarks made by the actress in one of her online videos. The legal notice claims that the video, crafted by content creator Raginyy, has had a detrimental effect on the reputation not only of Sonam Kapoor but also her husband, Anand Ahuja, and their associated fashion brands.
In an effort to address defamatory comments, online harassment, and negative critiques on the internet, the "Aisha" actress has partnered with legal representation to actively address such matters. Raginyy shared the legal notice on her Instagram and YouTube channels, adding a cryptic caption, "She who must not be named."
The legal notice issued by Sonam Kapoor's representatives specifies that the video in question, where Raginyy humorously critiqued Sonam Kapoor, contained content that was illegally uploaded and owned by Ms. Sonam Kapoor Ahuja. It emphasizes that the video's creation and dissemination were not authorized by the actress.
The notice sternly instructs Raginyy to remove the video and ensure that her platform is not used for such activities. It further warns that if the request is not adhered to, Sonam Kapoor may take "necessary action to safeguard her reputation."
Raginyy, the YouTuber who received the notice, explained that the video, which led to the legal action, was a commentary on statements made by Sonam Kapoor at public events. She clarified that her intention was not to offend but to provide a humorous take on the statements made by the actress. Raginyy expressed her view that her video was balanced, offering both defense and critique of Sonam Kapoor.
At the time of receiving the legal notice, Raginyy had around 6,000 subscribers on YouTube. She expressed her lack of resources and time to engage in a legal battle with a prominent figure like Sonam Kapoor.
The news of the legal notice has sparked discussions on social media, with many defending Raginyy and asserting that the video did not contain anything "offensive."
Sonam Kapoor, recently representing India at the UK-India Week 2023, was invited to the prestigious event by UK Prime Minister Rishi Sunak. In terms of her acting career, Sonam Kapoor's most recent project was the film 'Blind,' marking her digital debut. The film aimed to shed light on the life of visually impaired individuals and provide marginalized voices with a platform.
Sources By Agencies