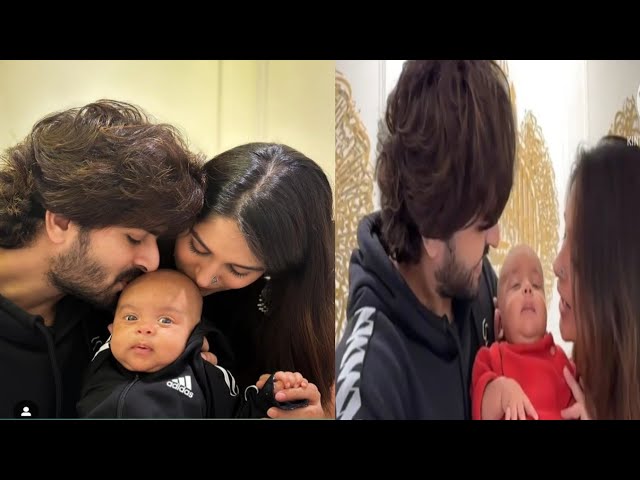 Mumbai, India – Actor-couple Shoaib Ibrahim and Dipika Kakkar, known for their roles in the popular TV show "Sasural Simar Ka," recently shared a heartwarming moment with their fans as they introduced their son Ruhaan to the world on his three-month milestone. The couple, who welcomed Ruhaan into their lives on June 21, chose to delay the much-anticipated face reveal for a heartwarming reason.
In a joint Instagram post, Shoaib and Dipika posted an adorable picture of their family, dressed in matching black outfits, as they showered baby Ruhaan with kisses. They captioned the post, "Introducing our Ruhaan to you all (red heart emoji). Duaaon me shaamil rakhiyega (Do keep us in your prayers) (palms up together emoji). The vlog is live on my YouTube channel."
The couple didn't stop at just a picture; they also treated their fans to a glimpse of Ruhaan's charming face through a video on Shoaib's YouTube channel. In the video, the entire family came together to celebrate the occasion, complete with a special cake adorned with '1/4' candles and a message that read, "Ruhaan is 3 months."
The heartwarming reveal, however, came with an explanation from the loving parents. Shoaib shared in the video, "It was due for a long time. I know all of you were asking, a few were also angry. But there are times when it is better to wait. I am feeling very light." Dipika added, "We discussed several times, 'Should we reveal the face?' Then we agreed, 'No let's wait for three months.' It was difficult for us too."
Ruhaan, their bundle of joy, was born prematurely, which understandably led to his parents' cautious approach. As Ruhaan marked his first month of life, Shoaib and Dipika expressed their gratitude on Instagram, posting a picture with the caption, "Ruhaan…Thank you for keeping him in your prayers #amonthalready #blessed #alhumdullilah."
Shoaib Ibrahim initially shared the news of Ruhaan's birth via an Instagram Story, writing, "Alhamdulillah today 21st June 2023 early morning we are blessed with a baby boy. It's a premature delivery, nothing much to worry. Keep us in your prayers (sic)." The couple had announced their pregnancy in January 2023, and their journey to parenthood has been a heartwarming one for their fans.
Shoaib Ibrahim and Dipika Kakkar's love story blossomed on the sets of "Sasural Simar Ka," leading to their marriage in 2018. Their enduring bond has continued to capture the hearts of their fans, and now, with the introduction of Ruhaan, their family has grown even stronger.
As Ruhaan turns three months old, the couple's fans and well-wishers can finally catch a glimpse of the adorable baby's face, cherishing this joyous moment with them.
Sources By Agencies