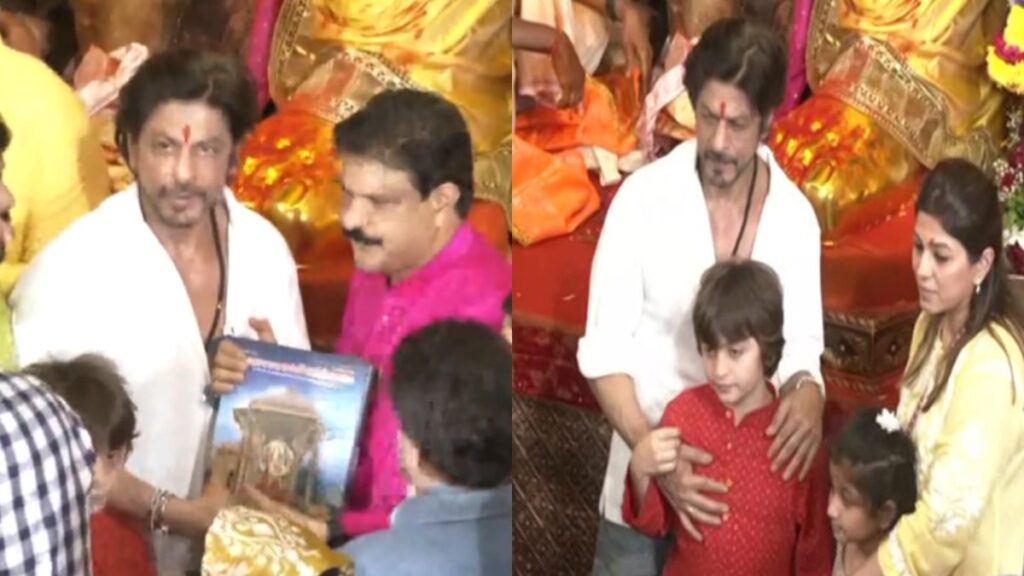 Mumbai, India: The festival of Ganesh Chaturthi witnessed yet another star-studded visit to Mumbai's iconic Lalbaugcha Raja, as Bollywood megastar Shah Rukh Khan, accompanied by his son AbRam and manager Pooja Dadlani with her daughter, added a touch of starry splendor to the grand celebrations.
Ganesh Chaturthi has always been a momentous occasion in Mumbai, and Bollywood celebrities have made it a tradition to pay their respects to the beloved elephant-headed deity at the famous Lalbaugcha Raja pandal. Following in the footsteps of his industry peers Kartik Aaryan, Varun Dhawan, and Vicky Kaushal, Shah Rukh Khan, fondly known as the "King of Bollywood," graced the event with his presence on Thursday evening.
AbRam, Shah Rukh Khan's youngest child, radiated joy as he donned a vibrant red kurta, embracing the festive spirit. Meanwhile, Shah Rukh Khan opted for a classic white shirt for the occasion. The duo, along with Pooja Dadlani and her daughter, was warmly received at the pandal.
Inside the pandal, Shah Rukh Khan engaged in heartfelt interactions with the puja committee members, embodying the spirit of unity and devotion that Ganesh Chaturthi represents. The megastar and his entourage also posed gracefully for the eager photographers, capturing the essence of the festive occasion.
As they made their way to their awaiting car, Shah Rukh Khan was enveloped by a sea of ardent fans. Ever the protective father, he ensured AbRam's safety during the frenzy, guiding him towards the vehicle. Before departing the premises, the superstar acknowledged his fans' affection with a wave, spreading joy and happiness among the gathered crowd.
Shah Rukh Khan had already extended his warm wishes to his fans for Ganesh Chaturthi on his Instagram feed earlier in the week. He shared an image of the deity's idol and expressed his hopes for happiness, wisdom, good health, and, of course, plenty of modak (a sweet delicacy) for everyone.
In addition to his auspicious Lalbaugcha Raja visit, Shah Rukh Khan recently made headlines for his appearance at the Ambani family's celebrations in Mumbai. Accompanied by his family members, including wife Gauri Khan, daughter Suhana Khan, and AbRam, the Khan family added their charm to the festivities.
Professionally, Shah Rukh Khan has been experiencing a remarkable year, marked by his return to the silver screen after a three-year hiatus. His latest film, "Jawan," is making waves at the box office, solidifying his status as one of Bollywood's most beloved and enduring stars.
As the Ganesh Chaturthi celebrations continue to spread joy and unity, Shah Rukh Khan's visit to Lalbaugcha Raja serves as a heartwarming reminder of the festive spirit that unites people from all walks of life during this special time of the year.
Sources By Agencies