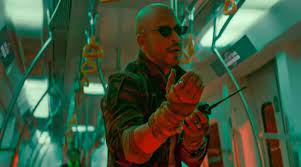 Shah Rukh Khan's latest cinematic offering, "Jawan," is proving to be an unstoppable force at the box office. Directed by Atlee and featuring a star-studded cast including Shah Rukh Khan, Nayanthara, and Vijay Sethupathi, the film has garnered resounding success in both domestic and international markets.
"Jawan" Box Office Triumph in India
As of its 20th day in theaters, "Jawan" has amassed a staggering ₹570 crore in India alone, according to reports from Sacnilk.com. The film, released on September 7, has consistently performed well, with early estimates indicating ₹5.1 crore in collections on its 20th day. The film's earnings during its first week amounted to ₹389.88 crore, with the second week contributing ₹136.1 crore to its remarkable box office journey.
The film's impressive run saw it collecting ₹7.6 crore on day 16, ₹12.25 crore on day 17, ₹14.95 crore on day 18, and ₹5.4 crore on day 19. With these figures, "Jawan" has now achieved a total collection of ₹571.28 crore, making it the fourth highest-grossing Hindi film ever.
"Jawan" Conquers the Global Box Office
Shah Rukh Khan's "Jawan" is not only rewriting records in India but also making waves worldwide. The film recently crossed the monumental ₹1000 crore milestone globally, securing its place as the highest-grossing Bollywood release of the year and the fourth-highest-grossing Indian film of all time.
Actress Sanya Malhotra celebrated this incredible achievement on Instagram, calling it "History in the maKING." With the success of "Pathaan" earlier this year and now "Jawan," Shah Rukh Khan becomes the first actor to have two films each grossing ₹1000 crore in a single year.
Shah Rukh Khan's Gratitude and Celebrations
Following the extraordinary success of "Jawan," Shah Rukh Khan and the film's team held a press conference in Mumbai to express their excitement and gratitude. Shah Rukh Khan shared, "It's a celebration. We rarely get a chance to live with a film for years. The making of Jawan has been going on for four years due to Covid and time constraints. There were a lot of people involved in this film, especially people from the South who came and settled in Mumbai and have been living in Mumbai for the last four years and working day and night for this film, which is the hardest work ever."
About "Jawan"
Apart from its stellar cast featuring Shah Rukh Khan, Nayanthara, and Vijay Sethupathi, "Jawan" boasts cameo appearances by Sanjay Dutt and Deepika Padukone. The film also stars Priyamani, Sanya Malhotra, Ridhi Dogra, Lehar Khan, Girija Oak, and Sanjeeta Bhattacharya. Since its release on September 7, "Jawan" has garnered rave reviews and an enthusiastic response from audiences, solidifying its status as a blockbuster hit.
As "Jawan" continues to break box office records, it's clear that Shah Rukh Khan's charisma and Atlee's directorial prowess have combined to create a cinematic masterpiece that will be remembered for years to come.
Sources By Agencies