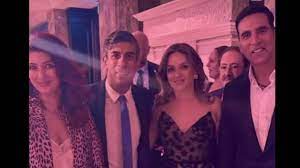 Twinkle Khanna, the accomplished actor-turned-author who recently completed her Masters in Fiction Writing at Goldsmiths, University of London, made waves in the UK capital when she and husband Akshay Kumar met with UK Prime Minister Rishi Sunak at a special event.
Twinkle Khanna, known for her wit and candidness on social media, took to Instagram to share her excitement about the event. In a video montage that included a captivating performance by Italian tenor Andrea Bocelli, she also posted a photo of herself, Akshay Kumar, and the UK Prime Minister, all elegantly dressed for the occasion.
In her humorous caption, Twinkle Khanna quipped about her attire, saying, "As much as I dislike wearing heels and dressing up, this evening was worth all the damaged toes." She went on to express her admiration for educator and writer Sudha Murty, stating, "Sudha Murty remains my hero, but it was pretty cool meeting her son-in-law, the Prime Minister 🙂 @rishisunakmp."
Twinkle Khanna's connection to Sudha Murty goes beyond this event. In 2021, she had the opportunity to interview Sudha Murty to mark the second anniversary of her digital platform, Tweak India. During their insightful conversation, the two women discussed their lives and choices. Twinkle Khanna, in particular, inquired about how Sudha Murty ensured her children remained grounded, highlighting the unique challenges faced by children from well-off backgrounds.
Sudha Murty, a prominent writer, philanthropist, and educator, shared her wisdom during the interview. She emphasized the importance of self-reliance, stating, "You are the best friend to yourself, and you're the worst enemy of yourself too."
Twinkle Khanna's journey in the world of entertainment and literature has been notable. After making her acting debut in 1995 with "Barsaat," she decided to step away from her acting career after the 2001 film "Love Ke Liya Kuch Bhi Karega." Subsequently, in 2015, she made her debut as a writer with the best-selling book "Mrs Funnybones." She followed it up with an anthology of stories titled "The Legend Of Lakshmi Prasad" in 2017 and her fiction novel "Pyjamas Are Forgiving" the following year.
Beyond her literary pursuits, Twinkle Khanna has gained recognition for her witty and humorous posts on Instagram, often poking fun at herself and other famous personalities, including Prince Harry.
Sources By Agencies