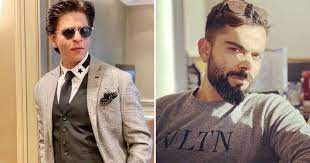 In a delightful and candid AskSRK session on social media, Bollywood superstar Shah Rukh Khan shared his affectionate feelings towards cricketer Virat Kohli, affectionately referring to him as "like my own" and "bhai damaad jaisa hai humaara" (Bro is like our son-in-law). This endearing comment has won the hearts of fans as it acknowledges Virat's marriage to Shah Rukh's co-star from several films, Anushka Sharma.
Shah Rukh Khan, known for his wit and charm, engaged with fans on a variety of topics during the session. When a user on the platform asked him to share his thoughts on Virat Kohli, the actor responded with genuine warmth, stating, "I love @imVkohli he is like my own, and I pray always for his well-being… bhai damaad jaisa hai humaara!!!" This sweet gesture reflects the close bond between the two families and their shared experiences in the entertainment industry.
Shah Rukh Khan and Anushka Sharma have starred together in numerous films, including "Rab Ne Bana Di Jodi," "Jab Tak Hai Jaan," "Jab Harry Met Sejal," and "Zero." Anushka's marriage to Virat Kohli has further strengthened their personal connection.
During the AskSRK session, Shah Rukh Khan also provided insights into his upcoming film, "Dunki," directed by acclaimed filmmaker Rajkumar Hirani. Responding to a fan's query about the film's progress, the actor shared, "#Dunki is done and very beautiful. A little like life itself!!" This update has generated excitement among fans eagerly awaiting the release of the film.
Shah Rukh Khan playfully interacted with fans throughout the session, showcasing his trademark sense of humor and warmth. When asked about the inclusion of action sequences in "Dunki," similar to his previous films "Pathaan" and "Jawan," the actor humorously replied, "#Dunki is all funny and emotional. It's Raju sirs world mere bhai. Thoda sa action maine daal diya hai… pata nahi sir rahein na rakhein… woh editor bhi hain na!!!" ("I've included a bit of action. Not sure whether Raju sir would keep it or not… he's also the editor, you know!!")
Fans also inquired about the film's release date, considering the simultaneous release of Prashanth Neel's action film "Salaar" on the same date. Shah Rukh responded with humor, saying, "#Dunki is fixed hi hai. Aur kya karoon Maathe pe gudwa loon!!!!" ("Dunki is fixed. Should I engrave it on my head or what!!!!!")
The AskSRK session came to a close when Rajkumar Hirani, the director of "Dunki," humorously commented that he was waiting for Shah Rukh Khan to exit the bathroom and suggested that the trailer for "Dunki" was in the works. Shah Rukh responded with a witty remark, assuring fans of his imminent return to the screen.
"Dunki," featuring Shah Rukh Khan and Taapsee Pannu, promises to be an engaging and emotional cinematic experience. As fans eagerly await the film's release, Shah Rukh Khan's interactions on social media continue to captivate and endear him to his global fanbase.
Sources By Agencies