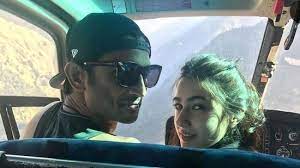 On the third death anniversary of actor Sushant Singh Rajput, actress Sara Ali Khan took to social media to pay tribute to her late co-star. Sara, who made her debut alongside Sushant in the film Kedarnath, shared heartfelt words and unseen behind-the-scenes pictures from their time on set.
In a poignant Instagram post, Sara uploaded two photos from the shooting of Kedarnath. The first image captured Sushant and Sara sitting together in what appeared to be a helicopter, on their way to reach the filming location. Both actors smiled at the camera, exuding warmth and camaraderie. The second photo depicted them sitting side by side on a hill, with Sara engrossed in reading and preparing her lines from the script.
Alongside the pictures, Sara penned a touching caption, reflecting on their shared experiences. She wrote, "On our way to Kedarnath for the first time. On my way to shoot for the first time. And I know neither are ever going to feel the same again. But somewhere between action, cut, sunrise, rivers, clouds, moonlight, Kedarnath and Allah Hoo, I know you're there. Keep shining amongst your stars. From Kedarnath to Andromeda."
Sara's tribute to Sushant garnered heartfelt responses from fans in the comment section of her post. Many expressed their appreciation for her remembrance of the late actor and her heartfelt message. Fans applauded her for consistently honoring Sushant's memory, including celebrating his birthday and other milestones. They showered Sara with love and respect, describing her as a gem of a person.
Sushant Singh Rajput's untimely demise in June 2020 sent shockwaves throughout the industry and his fans worldwide. Known for his talent and versatility, Sushant left an indelible mark on Bollywood. His last film appearance was in Dil Bechara, released posthumously, which touched the hearts of many.
As Sara Ali Khan commemorated Sushant on his death anniversary, her gesture serves as a poignant reminder of their shared bond and the impact the late actor had on those who knew him. The images she shared from the Kedarnath shoot provide a glimpse into the camaraderie they shared while working on the film, preserving cherished memories for both Sara and fans of Sushant.
On this day, as the industry remembers Sushant Singh Rajput, his legacy as a talented actor and kind-hearted individual continues to live on in the hearts of his colleagues, friends, and fans.
Sources By Agencies