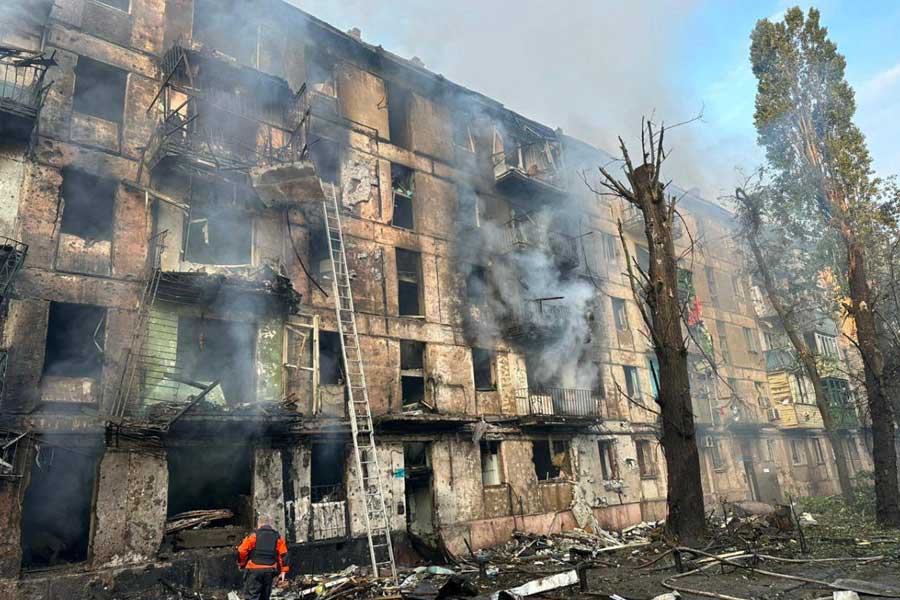 Kryvyi Rih, Ukraine: In the early hours of Tuesday, Ukraine experienced a harrowing missile attack launched by Russia on the central Ukrainian city of Kryvyi Rih. Ukrainian officials have reported casualties and significant damage to civilian infrastructure as a result of the attack.
Serhiy Lisak, the governor of the Dnipropetrovsk region where Kryvyi Rih is located, conveyed the severity of the situation via the Telegram messaging app, stating, "There are dead and wounded. A massive missile attack on Kryvyi Rih." The attack unleashed a barrage of missiles, causing destruction and casualties in the area.
Air raid sirens blared across Ukraine during the attack, but Kyiv's military officials assured the public that the country's air defense forces successfully intercepted and destroyed all Russian missiles targeted at the Ukrainian capital. Ukraine's top military command further reported that 10 out of the 14 cruise missiles launched by Russia were neutralized by their air forces, as well as one of the four Iranian-made drones.
Specific details regarding the number of missiles that hit Kryvyi Rih and the exact locations targeted by the Russia-launched drones remain unclear. However, reports indicate that several civilian buildings, including a five-storey apartment complex, sustained damage. Oleksandr Vilkul, the mayor of Kryvyi Rih, expressed concern that people may be trapped under the rubble caused by the missile strikes.
At this time, Reuters has been unable to independently verify the full extent of the reported casualties and damage. Lisak shared a photograph on social media revealing a five-storey apartment building with shattered windows and smoke emanating from the structure.
As of now, there has been no immediate response or comment from Russia regarding the reported missile strikes. It is worth noting that both Russia and Ukraine deny deliberately targeting civilians in the ongoing conflict between the two countries, which commenced approximately 16 months ago.
Additionally, in another area of Ukraine, the mayor of Kharkiv in the east reported via his Telegram channel that Russian drones had targeted civilian infrastructure, including a warehouse and a utility firm's building. However, there is currently no available information regarding casualties in that region.
The missile attack on Kryvyi Rih serves as a grim reminder of the escalating tensions and volatility in the region. It further emphasizes the urgent need for international efforts to de-escalate the conflict and find a peaceful resolution to ensure the safety and well-being of the affected populations in Ukraine.
Sources By Agencies