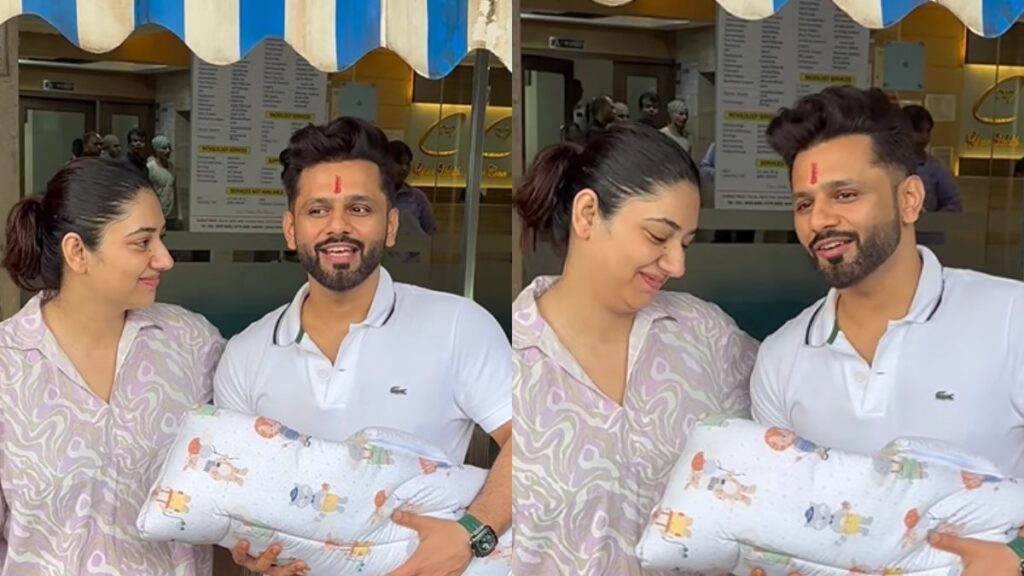 Rahul Vaidya and Disha Parmar, the newly minted parents of a baby girl, made their first public appearance as a family, bringing smiles and warmth to their fans. The couple was spotted outside the hospital, where Disha welcomed their little one, and they have now been discharged from medical care.
Amid flashing cameras and the excited chatter of onlookers, Rahul and Disha posed for the paparazzi, their hearts undoubtedly brimming with joy. As doting parents, they were seen in relaxed, off-duty looks, with the face of their newborn daughter gently covered with a cloth. This marks their initial public appearance with their baby, a moment that many had eagerly awaited since Disha's delivery.
Rahul Vaidya, sharing his happiness on this momentous day, expressed his gratitude to the media, saying, "Aaj mera birthday hai (Today is my birthday), and my bachchi (daughter) and wife are coming home. Isse better gift sayad hi duniya me kisiko mil sakti hai (Perhaps, no one in the world could receive a better gift than this). So, thank you God, Disha, and everybody, please bless our child."
The talented singer and his actor-wife Disha Parmar embraced parenthood as they welcomed their first child, a daughter, into their lives. The couple announced the arrival of their bundle of joy with a heartfelt Instagram post, addressing the baby as 'Laxmi Ji' in honor of the auspicious occasion of Ganesh Chaturthi.
Their Instagram post featured a charming image of a baby elephant cartoon bearing the message, 'It's a girl.' In their announcement, Rahul and Disha shared their excitement and expressed gratitude for their healthy daughter and the exceptional care provided by their gynecologist, Dr. Dhrupti Dedhia, and the medical team at Criticare Asia Hospitals.
Rahul Vaidya and Disha Parmar's love story has captivated fans since he proposed to her on her birthday in 2020 during the TV show Bigg Boss 14. The couple took their vows in a beautiful ceremony in July 2021. Speaking about this new phase in their lives, Rahul shared his overwhelming emotions, stating, "This whole feeling is just unexplainable… It's like you know it (delivery) will happen soon, but when it actually happens, it's just a different feeling."
As fans shower Rahul and Disha with blessings and good wishes, the couple's journey into parenthood continues to be a source of joy and inspiration for many.
Sources By Agencies