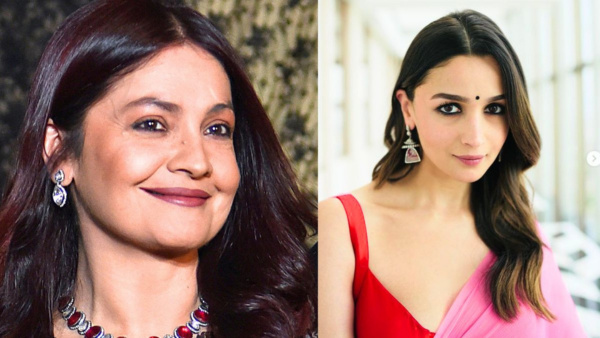 Pooja Bhatt, renowned Bollywood actress and a prominent contestant on "Bigg Boss OTT" Season 2, has recently spoken out about a longstanding rumor that has made its way into gossip columns and social media discussions. During an interview with Siddharth Kannan, Pooja was asked about the persistent speculations suggesting that Alia Bhatt is her daughter. In response, Pooja expressed her exasperation, deeming these rumors as "idiotic." She emphasized the importance of maintaining dignity when responding to such unfounded claims.
Pooja Bhatt's recent interview shed light on the bizarre rumors that have circulated regarding her relationship with Alia Bhatt. When informed by the interviewer that Alia had laughed heartily while addressing these rumors on a show, Pooja remarked, "These rumors are idiotic." She went on to explain, "This is not new in our country. Start talking about somebody's relationship with their daughter or with their bhabhi or with their sister or with their whatever. Now, how do you counteract that? Can you respond to this with dignity? It is absurd."
The public's fascination with the Bhatt family extended to "Bigg Boss OTT" Season 2, where Pooja Bhatt was a top-five contestant. Before the season's finale, Alia Bhatt took a moment to commend her sister's participation. When asked about Pooja's presence in the "Bigg Boss" house during a press conference for her film "Rocky Aur Rani Kii Prem Kahaani," Alia replied, "She's there, that is victory for me. I love her."
Mahesh Bhatt, the veteran director and father of Pooja Bhatt, also made an appearance on the "Bigg Boss" show and interacted with the contestants. During his time there, he revealed the pivotal role Pooja played in supporting the family during his struggling phase. Pooja pursued a successful modeling career and auditioned for numerous advertisements, significantly contributing to the family's financial stability during those challenging times.
Pooja Bhatt is the daughter of Mahesh Bhatt and Kiran Bhatt Aka Lorraine Bright, whom he married in 1970. Mahesh and Kiran also have a son named Rahul. In 1986, Mahesh married Soni Razdan, with whom he shares two daughters, Alia Bhatt and Shaheen Bhatt.
Pooja's candid remarks regarding the baseless rumors surrounding her and Alia Bhatt highlight the importance of addressing such rumors with dignity and discretion, particularly in the world of celebrity gossip and speculation.
Sources By Agencies