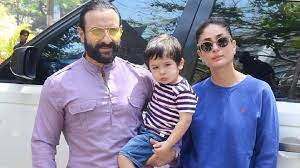 Bollywood superstar Kareena Kapoor recently opened up about the controversial time when she and husband Saif Ali Khan announced the name of their firstborn son, Taimur Ali Khan, in 2016. Speaking at the Indian Express' Express Adda event, Kareena candidly shared her perspective on the tumultuous period, emphasizing the significance of freedom of choice and dignity in the face of adversity.
Kareena Kapoor, who is gearing up for the release of her upcoming film "Jaane Jaan," shed light on the challenging phase that unfolded following the announcement of their son's name. She described it as "traumatic" and "very difficult" for her and her family.
During the Express Adda event, Kareena expressed her confusion regarding the controversy surrounding their choice of name, saying, "I don't think any mother or any child has to go through that. What was the reason… I still don't really get it, because nobody is meant to offend anyone or do anything. I think we have freedom of speech, freedom of what we want to do, at least both Saif and me believe that very strongly."
Kareena Kapoor went on to shed light on the reasoning behind choosing the name Taimur for their son. She revealed that Saif Ali Khan had a childhood friend named Taimur, and the name held special significance for him. "He grew up with a neighbor friend, and he always really liked his name, and his name was Taimur," Kareena explained. "So he said, 'You know, if I have a son, he was my first friend. I'd like to name him Taimur.'"
Kareena emphasized that the name had no connection or resemblance to anyone controversial, and its selection was deeply personal to Saif and their family.
Despite the initial backlash and trolling the couple faced, Kareena Kapoor praised both herself and Saif Ali Khan for handling the situation with dignity. She remarked, "It was a traumatic time, it was very difficult. But I think both Saif and me handled it with a lot of dignity."
Kareena and Saif tied the knot in October 2012 after a courtship of several years. They welcomed their first child, Taimur Ali Khan, in 2016, and their second son, Jehangir Ali Khan (also known as Jeh), in 2021. The family resides in Mumbai.
Kareena Kapoor is set to grace the screen once again in Sujoy Ghosh's "Jaane Jaan," alongside Vijay Varma and Jaideep Ahlawat. The film is scheduled to release on Netflix on September 21, promising to captivate audiences with its compelling narrative.
Kareena's candid revelations about the naming controversy shed light on the challenges faced by celebrities in the era of social media scrutiny while highlighting the importance of personal choices and resilience in navigating such situations.
Sources By Agencies