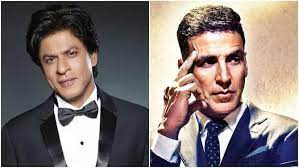 In the world of Indian cinema, where star-studded rivalries often make headlines, it's always heartening to witness moments of camaraderie and support among Bollywood's elite. The latest display of this warmth and solidarity comes from two of the industry's most celebrated actors, Shah Rukh Khan and Akshay Kumar.
Shah Rukh Khan, who has been basking in the glory of his recent hits "Pathaan" and "Jawan," received a heartfelt congratulations from Akshay Kumar as the latter took to his social media profile to acknowledge the phenomenal success of "Jawan."
Akshay's Gesture of Appreciation
Akshay Kumar shared a news article highlighting the incredible box office performance of "Jawan" and expressed his admiration for Shah Rukh Khan's accomplishments. He wrote, "What massive success! Congratulations my Jawan Pathaan Shah Rukh Khan. Our films are back and how." His message not only celebrated the triumph of "Jawan" but also underlined the significance of their films in rejuvenating the industry.
Shah Rukh Khan's Gracious Response
Ever the gentleman, Shah Rukh Khan promptly responded with warmth and gratitude. He wrote, "Aap ne dua maangi na hum sab ke liye toh kaise khaali jayegi. All the best and stay healthy Khiladi! Love u." In his reply, Shah Rukh Khan conveyed his appreciation for Akshay Kumar's well-wishes, emphasizing that their collective prayers had contributed to their success.
This exchange of pleasantries between the two megastars is a delightful reminder of the goodwill that exists in the film fraternity despite the cutthroat competition. Fans of both actors were quick to express their love and admiration for this heartwarming interaction.
A Rare On-Screen Pairing
While Shah Rukh Khan and Akshay Kumar have never shared extensive screen time together, they did have a memorable moment in Shah Rukh Khan's 1997 film "Dil To Pagal Hai," where Akshay Kumar made a cameo appearance. In 2007, Akshay reciprocated the favor by featuring in a cameo in Shah Rukh Khan's "Om Shanti Om." Moreover, Shah Rukh Khan made a special appearance in Akshay's song "Mast Kalandar" from the film "Heyy Babyy" the same year.
Industry Praises for "Jawan" and Shah Rukh Khan
"Jawan" has not only captivated audiences but has also garnered admiration from within the industry. Superstar Mahesh Babu lauded the film, saying, "Jawan… Blockbuster cinema… Atlee Sir delivers king-size entertainment with the King himself! Comes up with his career's best film… The aura, charisma, and screen presence of Shah Rukh Khan are unmatched… He's on fire here. Jawan will break his own records… How cool is that! Stuff of the legends." Meanwhile, SS Rajamouli, the director of "RRR," exclaimed, "This is the reason why Shah Rukh Khan is the Baadshah of the box office… What an earth-shattering opening… Congratulations Atlee for continuing the success streak in the north too, and congrats to the team of Jawan for the stupendous success."
Upcoming Projects
Akshay Kumar's busy schedule includes eagerly anticipated films like "Welcome 3" (titled "Welcome To The Jungle"), "Mission Raniganj: The Great Bharat Rescue," and "Housefull 5." On the other hand, Shah Rukh Khan is gearing up for his next project, "Dunki," directed by Rajkumar Hirani and co-starring Taapsee Pannu.
As the Indian film industry continues to witness spectacular success stories, the heartening exchange between Shah Rukh Khan and Akshay Kumar serves as a heartwarming reminder of the unity and mutual respect that thrive amid the glitz and glamour of Bollywood.
Sources By Agencies