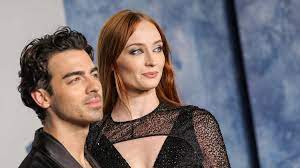 Following the recent announcement of his divorce from Sophie Turner, Joe Jonas was spotted in Los Angeles with his two daughters, marking his first public appearance since the news broke. However, what was meant to be a family outing turned into a social media storm, with discussions about Joe's missing wedding ring and rumors of ring camera footage playing a significant role in their divorce.
Joe Jonas and Sophie Turner, who were married for four years, share two daughters: four-year-old Willa and a one-year-old daughter with the initials 'DJ,' as revealed in Joe's divorce documents. Their divorce statement, issued via identical Instagram posts, expressed their desire for privacy for their daughters amidst ongoing speculation about the reasons behind their separation.
The outing with his daughters on Wednesday was accompanied by a woman, presumably a nanny, at Sweet Butter Kitchen in Sherman Oaks, Los Angeles, as reported by Page Six. This appearance came just hours after reports surfaced claiming that Joe had caught Sophie on their ring security camera "doing or saying something" that allegedly played a role in their divorce.
However, Joe's outing with his daughters triggered mixed reactions on Twitter (X). Some Twitter users criticized the timing, calling it a "staged photo op" in the wake of his divorce announcement. Others questioned Joe's decision to wear his wedding ring in a photo, only to remove it shortly afterward.
Twitter users also expressed skepticism about Joe Jonas painting Sophie Turner in a negative light. Sophie had previously stated her preference for a quiet, homebody lifestyle, while Joe's tour schedule with the Jonas Brothers often involved partying. Some social media users questioned Joe's quick efforts to establish a specific narrative around Sophie's behavior.
The TMZ report added further intrigue to the situation, suggesting that Joe Jonas had seen or heard something on their ring camera that contributed to his decision to end their marriage. While the exact contents of the footage remain undisclosed, it allegedly played a significant role in the divorce.
The news of Joe Jonas and Sophie Turner's divorce followed recent reports of "serious problems" in their marriage over the last six months and observations that both had been spotted without their wedding rings in public.
As speculation continues to swirl, fans and the public remain eager for further insights into the real reasons behind the high-profile couple's decision to part ways.
Sources By Agencies