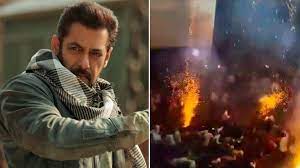 In a shocking incident, Salman Khan fans set off firecrackers inside a Malegaon theater during the screening of the actor's latest release, 'Tiger 3.' The incident, which caused panic among viewers, prompted the Chavani Police Station to file a case against unidentified individuals on Monday.
A video of the episode went viral, showing fans bursting firecrackers inside Mohan Cinema in Malegaon as Salman Khan made an appearance on the screen. The sound of whistles and the sudden burst of crackers led to chaos, with people seen running for safety.
Following the disturbing incident, the Chavani Police Station has registered a case against unknown individuals under Sections 112 and 117 of the Maharashtra Police Act. Additionally, Sections 435 (mischief by fire or explosive substance with intent to cause damage) and 336 (act endangering life or personal safety of others) of the Indian Penal Code have been applied, as stated by an official.
Aniket Bharati, assistant superintendent of police in Malegaon, expressed concern over the incident and urged people not to engage in such activities. "A case has been registered against them. I appeal on behalf of the police to not burst firecrackers inside theaters as it may lead to untoward incidents," Bharati stated.
Mohan Cinema, where the incident occurred, has been served notice, demanding the management to implement precautionary measures. Bharati emphasized that if the theatre is found responsible, strict action will be taken against them.
Responding to the viral video, Salman Khan termed the incident "dangerous" and called on people to avoid such actions that put themselves and others at risk. He shared his message on X (formerly Twitter), stating, "I'm hearing about fireworks inside theaters during Tiger 3. This is dangerous. Let's enjoy the film without putting ourselves and others at risk. Stay safe."
The incident occurred as fans flocked to theaters to watch 'Tiger 3,' which released in multiple languages on November 12, coinciding with the Diwali festivities. The Bollywood superstar's concern highlights the need for responsible behavior during public gatherings to ensure the safety of all moviegoers.
Sources By Agencies