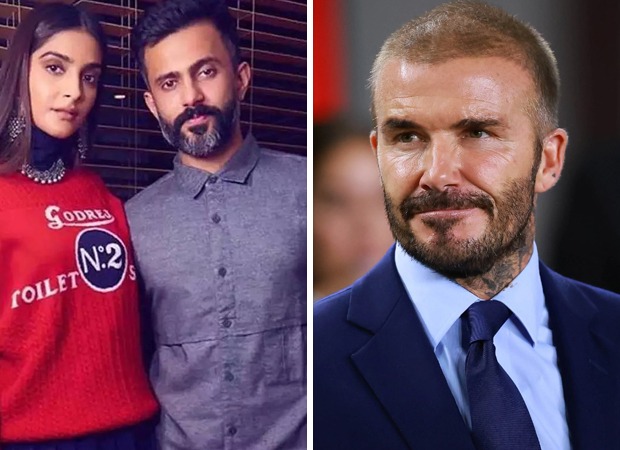 Bollywood actress Sonam Kapoor and her entrepreneur husband, Anand Ahuja, are set to roll out the red carpet at their Mumbai residence for none other than football legend David Beckham. The power couple is organizing an intimate dinner party for the former England football team captain, who is currently in India for his UNICEF commitment as a global ambassador.
According to a source quoted by news agency ANI, the dinner gathering is going to be an extremely private affair, with only 25 carefully chosen guests making the cut for this exclusive event. The source stated, "David Beckham is in India for his UNICEF commitment as a global ambassador, and he will be meeting Sonam and Anand during his trip to Mumbai. The power couple will be hosting David when he is in Mumbai and have invited the creme de la creme icons of the city for a dinner at their residence."
The dinner, scheduled to be held at Sonam Kapoor and Anand Ahuja's Mumbai home, is expected to be a grand affair, with the celebrity couple extending invitations to some of the most influential figures in the city. A recent Pinkvilla report revealed that the couple plans to host David Beckham on Wednesday during his stay in Mumbai.
The source further hinted at the significance of this dinner, suggesting that with David Beckham being a global icon and his wife, Victoria Beckham, a fashion icon, the event may hold more than meets the eye. The exclusive gathering promises to bring together cultural influencers and pop culture shapers for an evening of elegance and camaraderie.
In addition to the dinner, David Beckham is anticipated to attend the first semifinal of the ongoing World Cup between India and New Zealand at the Wankhede Stadium during his Mumbai visit. Recently, the football legend visited Gujarat to observe UNICEF's initiatives, advocating for child rights and gender equality.
Sharing insights from his visit on Instagram, David Beckham expressed his appreciation for UNICEF's work in Gujarat, stating, "It's a great privilege to see first-hand the work Unicef is doing on the ground to support children and their families. The energy and innovation I have seen here has been so inspiring, and I loved hearing the children's stories and their hopes and dreams for the future."
As the excitement builds for this exclusive gathering, Sonam Kapoor and Anand Ahuja's home is set to become the venue for a memorable evening with David Beckham, creating waves in both Bollywood and international circles.
Sources By Agencies