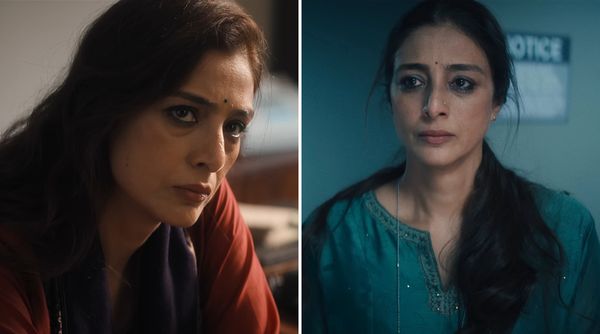 Netflix has just dropped the official trailer for Vishal Bharadwaj's much-anticipated spy thriller, "Khufiya," and it's already creating a buzz. Adapted from the book "Escape to Nowhere" by former Chief of the Counter Espionage Unit of R&AW, Amar Bhushan, the film promises a gripping narrative filled with suspense and intrigue. With an ensemble cast that includes the talented Tabu, Ali Fazal, Wamiqa Gabbi, Ashish Vidyarthi, and Azmeri Haque Badhon, "Khufiya" is set to be a thrilling cinematic experience.
The trailer takes viewers back to 2004, immersing them in the world of R&AW at its headquarters in Delhi. A potential security breach sends shockwaves through the agency, leading to suspicions of a mole within its ranks. As the enigmatic RAW agent, Krishna Menon, played by Tabu, takes charge of the investigation, all eyes turn to Dev, portrayed by Ali Fazal. What follows is a cat-and-mouse game as agents meticulously surveil every aspect of Dev's life, including his wife, portrayed by Wamiqa Gabbi. With the crisis intensifying, the trailer offers tantalizing glimpses of the secrets that lie ahead.
Netflix India shared the trailer on their platform, captioning it, "Yahan hathiyaar ke roop hain alag, aur jung hai khufiya. In a world of spies, the traitor must be brought to light. #Khufiya, streaming from Oct 5, only on Netflix!" Fans and viewers quickly reacted to the trailer, with one fan praising the unmatched pairing of Tabu and Vishal Bhardwaj, while another expressed sheer excitement for the film, noting that "This looks amazing!" The comments section was also filled with trust in Vishal Bhardwaj's filmmaking prowess, with remarks like, "If Vishal Bhardwaj has made it, it will always be good."
"Khufiya" marks a reunion between Tabu and director Vishal Bharadwaj, known for their previous collaborations in "Maqbool" (2003) and "Haider" (2014). During Netflix's Films Day event, Vishal revealed that he decided to change the gender of the protagonist, originally a male character in Bhushan's 2012 book, as he found Tabu's involvement more enticing. "The film is based on Amar Bhushan's espionage novel 'Escape to Nowhere,' the character was male, but it was not that exciting for me. When I thought of Tabu, the excitement was more, and I changed the gender of the character. I found a reason to work with Tabu, and I got that," he explained.
"Khufiya" is set to start streaming on Netflix from October 5, promising viewers an enthralling journey into the world of espionage and secrecy, led by a stellar cast and helmed by the creative brilliance of Vishal Bharadwaj.
Sources By Agencies