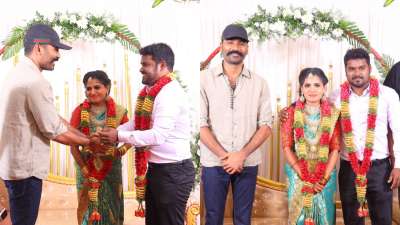 Dhanush, the illustrious Tamil actor known for his remarkable talent, took a break from the hectic shoot of "Captain Miller" to make a memorable appearance at the wedding of his assistant, Anand, in Chennai. In a heartwarming display of camaraderie, Dhanush extended his warm wishes to the newlyweds and graciously posed for photographs, leaving fans delighted and touched by his thoughtfulness.
The images of Dhanush's presence at the wedding quickly found their way onto social media through fan pages, revealing the actor's stylish and laid-back look for the special occasion. Dhanush arrived at the festivities wearing a beige shirt, paired with blue jeans and a blue cap that added a touch of his signature casual elegance. Sporting a thick moustache, he radiated charisma and charm, making the event even more special for the couple and their guests.
Dhanush was not alone in this delightful gesture, as he was joined by Ken Karunas, his co-star from the critically acclaimed film "Asuran." The pictures capture the genuine moments as Dhanush warmly greeted the groom and exchanged pleasantries, while the bride couldn't help but smile at the presence of the celebrated actor.
Fans of Dhanush showered him with praise for his kind and humble demeanor, with one admirer noting, "Wow, what a great gesture by Dhanush! It's wonderful to see celebrities showing love and support to their fans. This is why Dhanush has such a strong fan base." Another fan expressed their excitement about the unexpected visit, highlighting the actor's genuine connection with his supporters.
Following the wedding, Dhanush continued to spread joy as he met with Rathika and Sarathkumar. The trio shared some delightful moments and captured the memories with cheerful selfies, all while Dhanush maintained the same outfit he wore to the wedding.
Dhanush's next cinematic venture, "Captain Miller," has already piqued the interest of fans. The actor unveiled the film's first look last month, hinting at an action-packed and intense storyline. The poster portrays Dhanush holding a weapon amidst a chaotic backdrop of scattered bodies. Directed by Arun Matheswaran, known for his work in "Rocky" and "Saani Kaayidham," the film also features Priyanka Arul Mohan, Shiva Rajkumar, Nivedhithaa Sathish, and Sundeep Kishan in pivotal roles. "Captain Miller" is scheduled to grace theaters later this year.
Additionally, Dhanush has another exciting project in the pipeline, "Tere Ishk Mein," with filmmaker Aanand L Rai. The dynamic duo previously collaborated on hit films like "Raanjhanaa" and "Atrangi Re." The announcement of "Tere Ishk Mein" came on the 10th anniversary of "Raanjhanaa," demonstrating the enduring creative partnership between the actor and director Aanand L Rai.
As Dhanush continues to make headlines with his exceptional talent and endearing gestures, fans eagerly await his upcoming cinematic offerings and the magic he brings to the silver screen.
Sources By Agencies