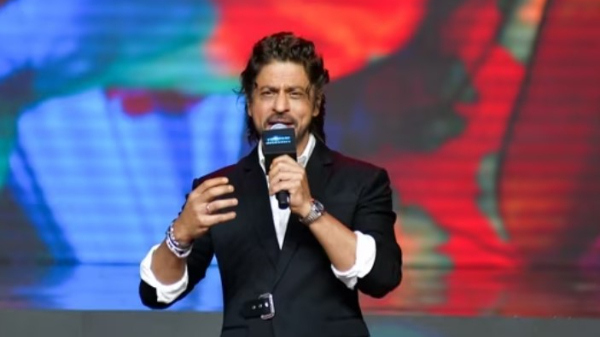 Bollywood superstar Shah Rukh Khan, known for his quick wit, had a sharp and humorous response for a troll who questioned the box office figures of his recent film "Jawan." During an #ASKSRK session on X (formerly known as Twitter), Shah Rukh Khan interacted with his fans, expressing gratitude and answering questions about his latest hit "Jawan" and his upcoming film "Dunki."
However, one user deviated from the pleasant exchange, accusing the film's producers of inflating the movie's box office collections. The user asked, "What about fake collection numbers of Jawan? So many news that producers are spreading fake collection numbers."
Shah Rukh Khan, known for his witty and tongue-in-cheek responses, didn't hold back. He humorously replied, "Chupp baith aur ginta reh…bas (Shut up and just keep counting). Don't get distracted in counting! #Jawan." This succinct response garnered attention and applause from fans.
During the session, another user inquired about the book Shah Rukh Khan was currently reading. The actor playfully responded, "With Jawan now, I am only reading Account books….ha ha. Joking."
"Jawan," which released earlier this month, has achieved considerable success at the Indian box office, amassing ₹576.23 crore in earnings so far. Shah Rukh Khan's return to the big screen after a hiatus of nearly four years has been marked by a string of successes. His film "Pathaan," co-starring Deepika Padukone and John Abraham, was a blockbuster hit this year. The actor is set to appear in Rajkumar Hirani's "Dunki," alongside Taapsee Pannu, which is also scheduled for release in the near future.
Shah Rukh Khan's witty comeback to the troll exemplifies his ability to handle criticism with humor and grace, endearing him even more to his legion of fans.
Sources By Agencies