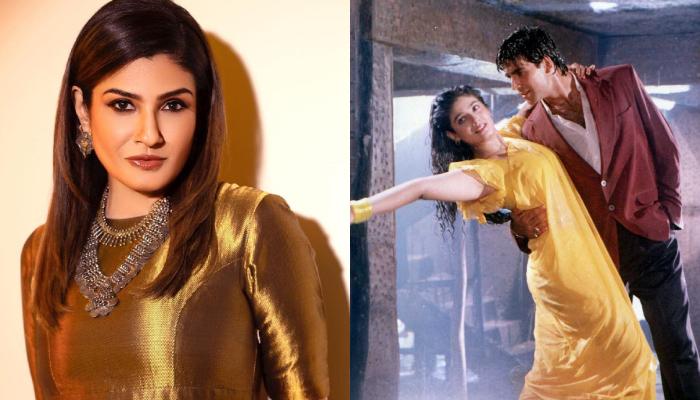 Bollywood's beloved actress Raveena Tandon, known for her numerous hit Hindi films, recently opened up about the challenges she faced while shooting the iconic song "Tip Tip Barsa Paani" for the 1994 blockbuster Mohra. During a guest appearance on the dance reality show India's Best Dancer, Raveena shared her vivid memories of the demanding shoot, revealing the unseen struggles behind the glitz and glamour of the film industry.
Recalling the arduous experience of filming "Tip Tip Barsa Paani," Raveena Tandon disclosed that she had to receive tetanus injections due to the challenging conditions on set. Despite taking precautions, she fell ill just two days after the shoot, attributing her illness to prolonged exposure to rain and adverse weather conditions. The actress emphasized that the allure of stardom on-screen often conceals the untold stories of resilience behind the scenes.
Speaking about her experiences, Raveena said, "I had to take tetanus injections, and two days later, I fell ill due to the exposure to rain. The glamour you see on screen conceals the untold stories behind the scenes. During rehearsals, injuries are commonplace, yet we all endure them. But the show must go on, whether on screen or stage; one's expressions and smile should never waver, regardless of the pain endured. These are the struggles that all artists and choreographers endure behind the scenes."
"Tip Tip Barsa Paani" remains one of the most iconic songs in Bollywood history, featured in the 1994 film Mohra. The song showcased the scintillating chemistry between Raveena Tandon and Akshay Kumar and is remembered for its memorable choreography and sensuous rain-drenched sequences. The film also starred Suniel Shetty, Paresh Rawal, and Naseeruddin Shah.
In the realm of cinema, Raveena Tandon is set to make a notable return with the film Welcome To The Jungle, alongside an ensemble cast featuring Akshay Kumar, Sanjay Dutt, Suniel Shetty, and Arshad Warsi, among others. Produced by Jyoti Deshpande and Firoz A Nadiadwallah, and directed by Ahmed Khan, the movie is scheduled for release on December 20, 2024. This film marks the next installment in the Welcome franchise, with the original Welcome releasing in 2007 and its sequel, Welcome Back, in 2015, both directed by Anees Bazmee.
Sources By Agencies