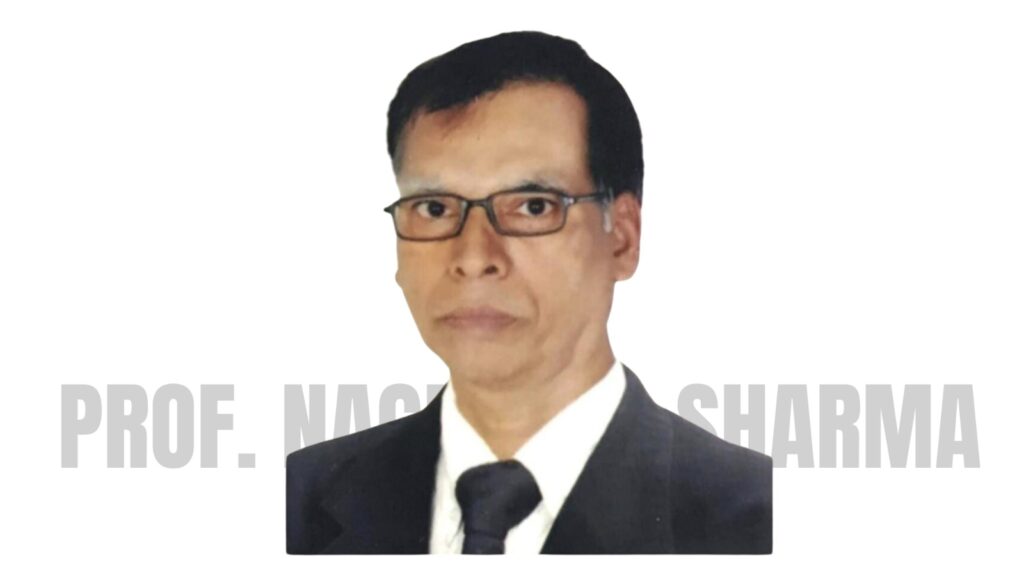 In the bustling city of Mumbai, where dreams are made and fortunes are sought, there exists a gem of a teacher, Prof. Nagendra Sharma. His journey, marked by trials and tribulations, is a testament to the unwavering spirit of dedication and resilience that characterizes his life. A man whose passion for teaching has touched the lives of thousands, Prof. Sharma stands tall as one of the finest educators in the field.
Prof. Sharma's life was not always a bed of roses; in fact, his early years were marked by adversity and hardships that could have easily broken a lesser soul. His journey began on October 4, 1988, when he tragically lost his father. The loss of a parent at such a tender age is a trauma that leaves an indelible mark on one's psyche. However, Prof. Sharma did not let this tragedy define him; instead, he used it as a stepping stone to build a brighter future.
With these life-altering experiences shaping his character, Prof. Sharma embarked on a path of enlightenment. In 1994, he began his teaching career at a private girls' high school. His initial years were not easy, as he grappled with the challenges of being a young and inexperienced educator. However, he was fueled by a burning desire to make a difference in the lives of his students.
In the year 2000, Prof. Sharma took a significant leap of faith and moved to Mumbai. This decision would prove to be a turning point in his life. Armed with a BSc degree from Muzaffarpur University, he was determined to impart knowledge and shape young minds.
His dedication to his craft and his unwavering commitment to his students soon became evident. Prof. Sharma specialized in teaching mathematics for JEE Mains and Advanced, one of the most challenging subjects in the realm of competitive examinations. Over the years, he has honed his skills and become a master of his domain, consistently delivering excellent results.
What truly sets Prof. Sharma apart is his remarkable ability to connect with his students on a personal level. He doesn't just teach math; he instills in his students a passion for learning, a thirst for knowledge, and the confidence to tackle even the most complex problems head-on. His classrooms are not just places of instruction; they are sanctuaries of inspiration where students flourish academically and personally.
Six years later, another wave of turmoil hit his life. In 2007, his mother went missing in the bustling metropolis of Mumbai. For six agonizing months, he searched high and low, not knowing whether she was safe or not. This period was a test of his inner strength, and it was a testament to his determination that he never gave up. Eventually, against all odds, he found his mother, and their reunion was a moment of joy and relief that cannot be put into words.
Today, after three decades of dedicated teaching, Prof. Nagendra Sharma stands as a symbol of hope and inspiration. He has touched the lives of more than 5,000 students, guiding them towards success in their academic pursuits. His total teaching experience of 30 years is a testament to his unwavering commitment to the betterment of young minds.
In the heart of Mumbai, Prof. Sharma has not just built a career but a legacy. His journey, from the depths of personal tragedy to the heights of academic excellence, is a story that inspires us all. He reminds us that no matter how tough the road may seem, with determination, hard work, and an unwavering belief in oneself, we can overcome any obstacle.
Prof. Nagendra Sharma is not just one of the best teachers in Mumbai; he is a shining example of the transformative power of education and the human spirit. His story reminds us that even in the face of adversity, we can find our purpose and make a meaningful impact on the lives of others.