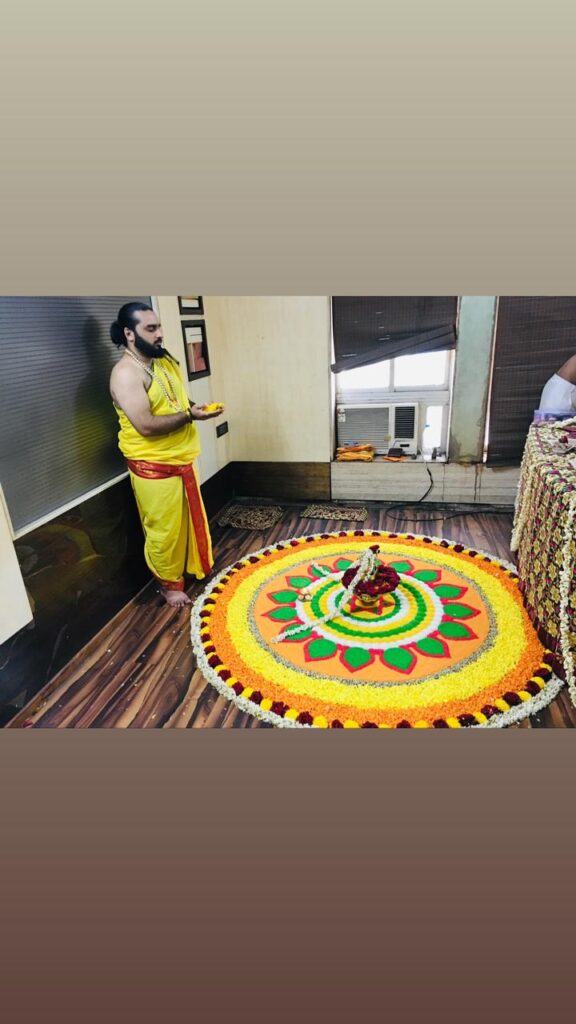 A Legacy of Astrological Excellence
In a world where astrology, Vastu Shastra, and Vedic rituals have become increasingly popular, one name shines above the rest – Vaibhav Jani, or as many know him, Vaibhav Jani – Shastriji. Hailing from the illustrious Jani Family, with a rich lineage of professional astrologers and practitioners of Hindu customs, Vaibhav Jani represents the fourth generation to inherit the wisdom of these ancient traditions.
Educational Odyssey
Vaibhav Jani's journey into the world of astrology and Vedic knowledge began in his early years. His educational journey commenced at M.P. Bhuta School in Sion, Mumbai, where he laid the foundation for his lifelong pursuit of knowledge. To deepen his expertise, he pursued a Shastri (BA in Sanskrit) degree, followed by a rigorous ten-year study of astrology, Vastu Shastra, and Vedic Shastra at the esteemed Kadiyadara Sanskrit Pathashala in Gujarat. This path of learning followed the sacred Rishi Parampara, imparting in him a profound understanding of ancient wisdom.
A Remarkable Career
In 2006, Vaibhav Jani achieved a remarkable feat by ranking at the top in Gujarat for his exceptional astrological knowledge. His dedication and contributions to the field were rewarded with a prestigious gold medal, presented by none other than the honorable Chief Minister of Gujarat, Shri. Narendra Modi, at Somnath Sanskrit University. Throughout his career, Vaibhav Jani has offered successful consultations, conducted puja ceremonies, and provided astrological guidance to prominent individuals and organizations.
Celebrity Clientele
Vaibhav Jani's client list reads like a who's who of the Indian and international elite. Renowned names such as Mukesh Ambani, the Reliance Group, and Asit Modi, the producer of the popular television series "Tarak Mehta Ka Ooltah Chashma," have sought his expert advice. His client base extends to business tycoons, ministers, and celebrities from India and overseas.
Awards and Accolades
Vaibhav Jani – Shastriji's remarkable contributions to the fields of astrology and Vastu Shastra have not gone unnoticed. His gold medal from Shri. Narendra Modi and his recognition as the top astrologer in Mumbai and India by Indian media stand as testaments to his unparalleled expertise.
Preserving Ancient Wisdom
As the seventh generation of the Jani Family, Vaibhav Jani is deeply committed to preserving and propagating the timeless wisdom of astrology, Vastu Shastra, and Vedic rituals in India and across the globe. Beyond his consulting work, he dedicates himself to performing intricate rituals and Yagnas, showcasing his unwavering commitment to his craft.
Global Reach and Impact
Vaibhav Jani's expertise has transcended borders. He provides services not only in Mumbai and India but also in the UAE, UK, Africa, and the USA, catering to a global clientele seeking his profound guidance. His appearances on popular television shows like "Tarak Mehta Ka Ooltah Chashma" have exposed a wider audience to the richness of Vedic traditions and rituals.
A Legacy for Generations
Vaibhav Jani – Shastriji's journey from inheriting a rich legacy to becoming a Gold Medalist Astrologer is a testament to his dedication and profound knowledge of Vedic sciences. His contributions to astrology and Vastu Shastra have earned him recognition from the highest echelons of power in India, making him a trusted advisor to celebrities, business leaders, and individuals seeking authentic guidance in their lives. His commitment to preserving and sharing ancient wisdom continues to impact and inspire seekers worldwide.
==Social Media Links==
*https://www.instagram.com/Officialshastriji/
*https://www.linkedin.com/in/vaibhav-jani-654908108
*https://m.facebook.com/VAIBHAVSHASTREE
*https://www.twitter.com/i_m_shastriji
*https://www.youtube.com/channel/UCepRYx3hA1-0ujm4k4ku5Ew