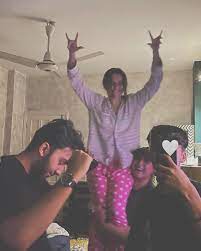 Pakistani actor Hania Aamir, known for her admiration for Bollywood icon Shah Rukh Khan, once again displayed her love for the star by dancing to his songs and emulating his signature poses. In an Instagram post shared on Saturday, Hania gave her fans a delightful glimpse of her evening filled with music and dance. This isn't the first time she has celebrated Shah Rukh Khan's charm through her social media.
In the captivating post, Hania Aamir shared photos of her get-together with friends, including singer Yashal Shahid, Aashir Wajahat, Nayel Wajahat, and others. One picture featured Hania striking a playful pose while Yashal shared a laugh and held onto her legs, with Aashir and Nayel seated nearby.
However, the highlight of the evening was a video in which Hania, dressed in a loose white top and pink pajamas, danced energetically with her friends to the popular track "Chaleya" from Shah Rukh Khan's latest film "Jawan." The lively performance took place in front of her television, where the original song featuring Shah Rukh Khan played. Hania skillfully matched Shah Rukh's iconic dance moves, filling the room with infectious enthusiasm.
While Hania didn't provide a caption for the post, she simply wrote, "Ganda" (meaning "dirty" or "naughty"). Her fun-filled post received admiration from fellow celebrities like rapper Badshah and Shehnaaz Gill's brother Shehbaz Badesha. Fans also poured in their love, with one expressing, "The smile on your face is everything! May Allah protect your inner happiness from evil eyes and keep you safe. Ameen! @haniaheheofficial Always keep smiling!!" Another praised her dance, calling it "so cute." There were even requests from fans to see Hania Aamir and Shah Rukh Khan share the screen in a film.
Hania's affection for Shah Rukh Khan has been evident in her previous social media posts, including a video where she emulated SRK's signature pose with humor and style. Her admiration for the Bollywood legend is well-known among her followers.
"Chaleya," the song that fueled this vibrant dance, features Shah Rukh Khan and Nayanthara and is a part of the film "Jawan," directed by Atlee. Composed by Anirudh and sung by Arijit Singh and Shilpa Rao, the song has been choreographed by Farah Khan, with lyrics by Kumaar. In addition to Shah Rukh Khan and Nayanthara, the film boasts a star-studded cast, including Vijay Sethupathi, Deepika Padukone, and Sanjay Dutt in cameo roles.
Sources By Agencies