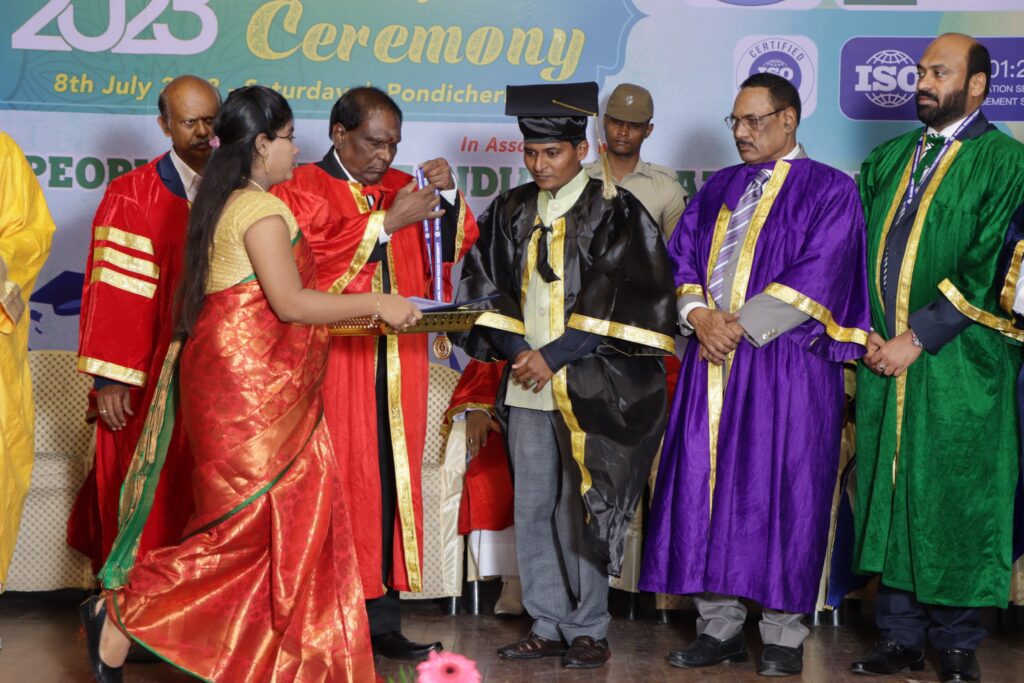 Dr. Arunkumar is a name that resonates throughout the educational landscape, a testament to his unwavering dedication, innovation, and commitment to the cause of education. With an illustrious career marked by groundbreaking achievements and a passion for learning, Dr. Arunkumar has left an indelible mark on the world of education. In this article, we dive deep into his life, his contributions, and his remarkable accomplishments.
Dr. Arunkumar hails from Tamil Nadu, India, and from an early age, he exhibited a profound thirst for knowledge and a deep-seated passion for education. His educational journey laid the foundation for his future success, culminating in a Master of Arts (M.A) degree and a Bachelor of Education (B.Ed) qualification. These academic achievements were pivotal in shaping his destiny as an educator and an innovator.
In a crowning achievement, Dr. Arunkumar was bestowed with an Honorary Doctorate in Education by the prestigious GLOBAL HUMAN PEACE UNIVERSITY on July 8, 2023. This recognition symbolizes his tireless commitment to the advancement of education and the promotion of global peace. The honorary doctorate stands as a testament to the profound impact he has had on the educational landscape and the lives of many.
Dr. Arunkumar's career reached its zenith on October 20, 2022, when he accomplished a world record that etched his name into history. Hailing from Dharmapuri, Tamil Nadu, India, he became the first educational content creator on the unique "HUUT" application, a voice-based social media platform.
His relentless dedication and innovative approach led to the verification of his profile as an educational content creator on "HUUT." This achievement was a pivotal moment in the realm of educational content creation, seting new standards and inspiring educators and learners alike.
The significance of this achievement transcends the boundaries of a single platform. Dr. Arunkumar's pioneering work in voice-based education content laid the groundwork for advancements in educational technology. His contributions were duly recognized by the WORLDWIDE BOOK OF RECORDS, further solidifying his status as a trailblazer and visionary in the field. His work has opened up new horizons for the educational community.
In addition to his world record achievement, Dr. Arunkumar has received several prestigious awards throughout his career, including the "Inspiring Human Award" from the worldwide book of records. This recognition reflects his extraordinary contributions to the field of education and his unwavering commitment to its improvement.
Dr. Arunkumar maintains an active presence on various social media and educational platforms, where he shares his insights and knowledge with a global audience. His platforms include Telegram, Threads, Instagram, DAILYHUNT, and Flickpost World Record, offering valuable educational content and engagement opportunities for his followers.
Dr. Arunkumar's journey, from an enthusiastic student to a world record holder and honorary doctorate awardee, is a testament to dedication and innovation. His influence on the education landscape, especially in educational content creation, has set new standards and inspired countless individuals to pursue education, embrace innovative educational technologies, and work towards a more peaceful and educated world.
His legacy is one of pasion, perseverance, and an unyielding pursuit of excellence in education. Dr. Arunkumar's contributions have ignited the sparks of inspiration in many, encouraging them to explore the transformative power of education.