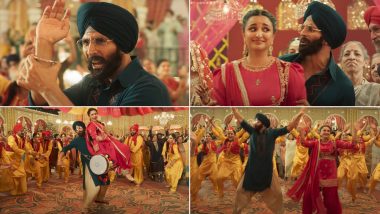 The dynamic duo of Akshay Kumar and Parineeti Chopra is all set to dazzle audiences with their infectious chemistry and high-octane energy in the newly released Punjabi track, "Jalsa 2.0," from their upcoming film, "Mission Raniganj." The song, which features the stars breaking into a lively bhangra dance, is already making waves in the world of music and entertainment.
In "Jalsa 2.0," Akshay Kumar takes center stage, initially showcasing his impressive bhangra moves, while Parineeti Chopra looks on with an infectious smile, eager to join the celebration. Akshay, donning a dark blue kurta and a turbaned avatar, delivers a spirited bhangra performance, even adding some rhythmic thumping while seated on a charpoy. Parineeti soon joins the festivities, and the two sync their steps to the lively beats of the dhol. The highlight of the video sees Parineeti seated atop the dhol, which Akshay wears around his neck, and playing along with zeal.
The foot-tapping music of "Jalsa 2.0" is composed by Prem and Hardeep, while the lyrics are penned by Satinder Sartaaj, who also lends his powerful vocals to the track. The song's energetic choreography is the work of Ganesh Master.
Jackky Bhagnani, Founder of Jjust Music and head of Pooja Entertainment, expressed excitement about the song's release, saying, "The Jalsa 2.0 song represents a significant moment in our journey as we step into the world of Indian Cinema with great enthusiasm once again. This is for the first time that Jjust Music is venturing into this grand endeavor. It's a joyful celebration of music, culture, and the magic of movies."
Deepshikha Deshmukh, Producer at Pooja Entertainment, also shared her enthusiasm, stating, "Jalsa 2.0 is a very special song for all of us. It's the first song from Mission Raniganj which carries along a lot of fun, and Ganesh Master's choreography will instantly make you get up and dance. Associating with Jjust Music for this one has been absolutely amazing. Akshay sir and Parineeti coming together is total Dhamaal."
"Mission Raniganj: The Great Bharat Rescue" stars Akshay Kumar and Parineeti Chopra and is produced by Vashu Bhagnani, Jackky Bhagnani, Deepshikha Deshmukh, and Ajay Kapoor. Directed by Tinu Suresh Desai, the film is based on the real-life coal mine accident that shook the nation and the world. It narrates the relentless efforts of the rescue team, led by Jaswant Singh Gill, and is set to hit theaters on October 6, promising a gripping cinematic experience.
With their scintillating chemistry and electrifying dance moves in "Jalsa 2.0," Akshay Kumar and Parineeti Chopra have set the stage for "Mission Raniganj" to be a must-watch film of the year.
Sources By Agencies