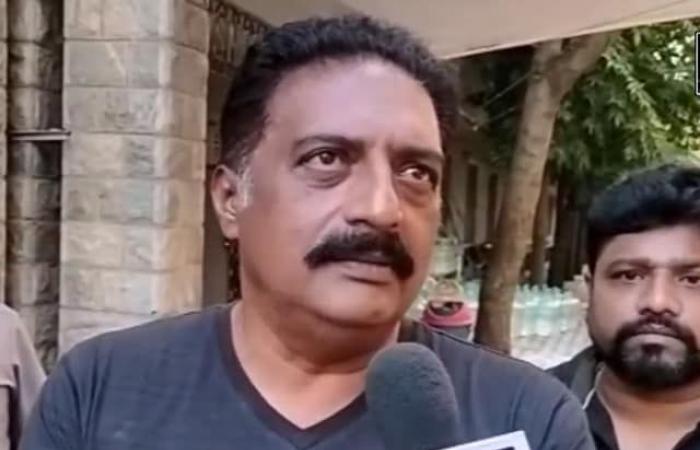 Acclaimed actor Prakash Raj finds himself at the center of a controversy after a complaint was filed against him at the Banahatti police station in Karnataka's Bagalkot district. The complaint alleges that Raj's social media post, in which he shared a cartoon that seemingly mocked India's Chandrayaan-3 mission, is offensive and disrespectful.
The complaint has been lodged by leaders of Hindu organizations, who have demanded appropriate action against the actor for his post. The incident has ignited a debate over the boundaries of humor and the sensitivity associated with India's space missions.
The veteran actor had shared a cartoon on the microblogging site X that depicted a man in traditional attire pouring tea. Alongside the image, Raj wrote, "First view just arrived from Chandrayaan .. #VikramLander #justasking."
However, Raj's post drew strong criticism from various quarters, with many asserting that Chandrayaan-3's mission is a matter of national pride and should not be subjected to humor or mockery.
In response to the social media outrage, Prakash Raj defended his post, clarifying that his intention was only to make a joke. He mentioned that the reference was to a historical joke from the times of Neil Armstrong and was meant to celebrate a "Chaiwala" from Kerala. He urged critics to have a broader perspective and understand the humor in his post.
Chandrayaan-3, the ambitious lunar mission by the Indian Space Research Organisation (ISRO), is set to land on the moon's surface on August 23 at approximately 18:04 hours IST. The live coverage of the event will be available on ISRO's official platforms, marking a significant milestone in India's space exploration journey.
Chandrayaan-3's objectives encompass demonstrating safe and soft landing on the lunar surface, showcasing rover roving on the moon, and conducting in-situ scientific experiments. While India's space endeavors have garnered global attention and accolades, they have also become a point of national pride and reverence.
As the incident involving Prakash Raj unfolds, it highlights the nuanced balance between artistic expression and the respect attached to scientific achievements, particularly in the realm of space exploration. The controversy adds another layer to the ongoing discourse surrounding the portrayal of sensitive subjects in media and entertainment.
The actor's social media post has sparked conversations about the intersection of creativity, public sentiment, and the reverence that space missions command. The incident serves as a reminder of the diverse perspectives and emotions that shape public discourse in the digital age.
Sources By Agencies