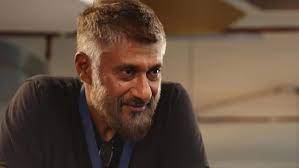 Filmmaker Vivek Agnihotri, renowned for his thought-provoking narratives, opens up in an insightful interview about his recent web series 'The Kashmir Files Unreported,' the film 'The Kashmir Files,' and his creative principles. The director addresses questions surrounding the reception of his projects, his beliefs on violence in cinema, and his future endeavors.
'The Kashmir Files Unreported' web series, which features narratives of Kashmiri Pandits recounting their experiences during the 1990 violence and exodus, has garnered attention since its release on ZEE5. Agnihotri addresses queries about his preceding film 'The Kashmir Files,' which delves into the events of 1990 and collected ₹350 crore at the box office.
In an interview with Hindustan Times, Agnihotri delves into the film's subject matter and controversies, revealing his motivations, financial stakes, and artistic convictions. He responds candidly to questions regarding violence in cinema and his ongoing project 'The Vaccine War.'
Agnihotri defends 'The Kashmir Files' by emphasizing its accuracy and truthfulness. He attributes criticism of the film to those who are against the abrogation of Article 370 and who sympathize with terrorist ideologies. The director asserts that the film exposes terrorism like no other Indian film has done before, depicting real characters and dialogues that resonate with the actual sentiments of certain individuals.
He elaborates on the portrayal of characters in the film, particularly highlighting the characters of Radhika Menon (played by Pallavi Joshi) and Yasin Malik (depicted as Farooq Malik Bitta and played by Chinmay Mandlekar). Agnihotri suggests that their authenticity may have contributed to the film's controversy, as it lays bare certain aspects of their ideologies and actions.
As Agnihotri continues his creative journey, he discloses his upcoming project, 'The Vaccine War.' Reflecting on the commercial success of 'The Kashmir Files,' he remains detached from its financial achievements, noting that his focus lies on his craft rather than monetary outcomes. He conveys his determination to allocate his earnings from 'The Kashmir Files' into 'The Vaccine War,' revealing the financial challenges that accompany the pursuit of his cinematic endeavors.
Regarding violence in cinema, Agnihotri differentiates between depicting violence for the sake of glorification and portraying it as an essential part of the narrative, especially when it pertains to historical events. He underlines the importance of accurately representing violence that occurred to preserve the truth, while cautioning against excessive glorification for entertainment purposes.
In conclusion, Vivek Agnihotri's interview provides a candid insight into his creative philosophy, his stance on representing sensitive subjects, and his aspirations for future projects. The interview showcases his commitment to his craft and his desire to engage audiences with narratives that challenge perspectives and reflect reality.
Sources By Agencies