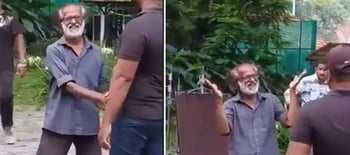 The internet is buzzing with excitement as a video featuring Sudhakar Prabhu, a tea shop owner in Fort Kochi, Kerala, has gone viral. What makes Prabhu a sensation is his striking resemblance to the legendary Indian actor, Rajinikanth.
In the video that has captured the attention of netizens, Prabhu can be seen engaging with a few people while mirroring Rajinikanth's distinctive mannerisms. The video, initially shared by a user account @despoters_12345, has sparked a frenzy of discussions and shares on social media platforms.
This extraordinary resemblance was first noticed by Malayalam actor-director Nadirshah, who came across Prabhu while in Fort Kochi for a film shoot. Nadirshah, astounded by the likeness, shared his discovery on Facebook, describing Sudhakar Prabhu as "Astounding! Sudhakara Prabhu of Fort Kochi with a likeness to him. Although he is an aristocrat by name, he is working in a tea shop," accompanied by images of the doppelganger.
As the news of Prabhu's uncanny resemblance to Rajinikanth started to circulate, he began receiving invitations to various events and functions across Kerala, further solidifying his newfound fame.
This is not the first instance of someone bearing a resemblance to the Indian film icon. Last year, pictures of Rehmat Gashkori, a retired government employee from Pakistan, who bore a remarkable resemblance to Rajinikanth, took the internet by storm. Gashkori's colleagues first noticed the resemblance and remarked on his similar body language, hairdo, and stride to that of Thalaivar.
Meanwhile, Rajinikanth, the legendary actor himself, has resumed shooting for his 170th movie, promising an entertainer with a significant social message. His latest film, "Jailer," directed by Nelson, saw release in August and proved to be a box office success, exceeding all expectations.
Fans of the iconic actor eagerly await his future projects, including an untitled film with director Lokesh Kanagaraj and his daughter Aishwarya Rajinikanth's "Lal Salaam," offering a glimpse of the enduring stardom and charisma of Rajinikanth within the Indian film industry.
Sources By Agencies