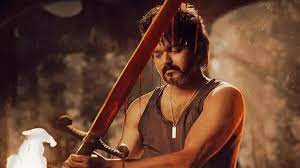 In a historic feat, Vijay's latest action thriller, "Leo," directed by Lokesh Kanagaraj, has set a new record by becoming the highest-grossing film in the history of Tamil cinema. The film has triumphed at the global box office, raking in an astounding ₹461 crore within its first week of release.
The production house, Seven Screen Studios, recently shared this remarkable achievement, marking a milestone in the Indian film industry. Vijay, who stars in the film, reunites with director Lokesh Kanagaraj after their successful collaboration on the 2021 film "Master."
"Leo" not only shattered records on the global stage but also displayed its dominance in India. As per the latest data from Sacnilk.com, the film crossed the ₹266 crore mark within India on its seventh day, marking a phenomenal first week.
The film made an impressive ₹64.8 crore on its opening day, with earnings broken down as follows: ₹48.96 crore (Tamil), ₹12.9 crore (Telugu), ₹2.8 crore (Hindi), and ₹14 lakh (Kannada). The film maintained steady growth, culminating in ₹13.4 crore (Tamil: ₹9.85 crore, Telugu: ₹1.85 crore, Hindi: ₹1.55 crore, Kannada: ₹15 lakh) on its seventh day. Thursday's collections added another ₹11 crore, bringing the total domestic earnings to ₹266.35 crore for all languages.
"Leo" features an ensemble cast that includes Vijay, Sanjay Dutt, Trisha Krishnan, and Arjun Sarja. The film, which was highly anticipated, was released to great acclaim last Thursday.
The "Hindustan Times" review of "Leo" lauds the film for its gripping storytelling and innovative approach to a familiar plot. Director Lokesh Kanagaraj's execution of the story, along with the exceptional contributions of stunt choreographers, cinematographers, editors, and music directors, has contributed to the film's resounding success.
"Leo" has not only set a new standard in Tamil cinema but has also made a significant mark on the global box office, securing its place as a monumental achievement in the world of Indian cinema.
Sources By Agencies