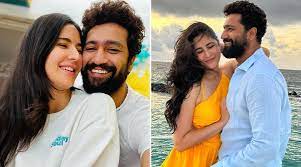 Vicky Kaushal and Katrina Kaif, Bollywood's beloved couple, continue to captivate fans with their charming insights into their married life. The couple, who tied the knot in a grand ceremony in 2021, often shares delightful anecdotes about their relationship, family, and personal preferences. In a recent interview, Vicky Kaushal, who is currently busy promoting his upcoming film, "The Great Indian Family," opened up about how their culinary tastes have evolved since their marriage.
Speaking to ANI, Vicky Kaushal shared, "Earlier, only I loved white butter and paranthas, and now Katrina also loves it too. Earlier, I did not understand pancakes, but now I like pancakes. So, that's what has happened."
The actor's revelation highlights the sweet moments of compromise and shared experiences that come with married life. It's clear that the couple is not only in love but also discovering new facets of their relationship every day.
A few weeks ago, Vicky Kaushal revealed the heartwarming story of how he approached Katrina for marriage during an interview with We Are Yuvaa. When asked about his thoughts before approaching a more popular star like Katrina, Vicky explained, "Those factors were never the reason why I fell in love with her. Why I fell in love with her is because I got to know the human part of her. I knew that I would love to have her as my life companion."
He candidly shared his initial feelings of surprise when Katrina showed interest in him, saying, "First I used to feel odd getting attention from her. I used to be like, 'Hain? Are you okay?' She was a phenomenon. Shuru Shuru mein obviously ye lagta tha, 'Why me?' But she is a lovely human being, and once I got to spend time with her, I realized I had never met a person like her. I have never seen her say anything ill about anyone. She is very compassionate about the people around her, about the environment she is in, and that, for me, is like my biggest turn-on."
Katrina Kaif and Vicky Kaushal's love story culminated in a beautiful wedding in December 2021, following two years of dating. Their wedding festivities in Sawai Madhopur, Rajasthan, were a grand affair attended by close family members and a select few friends from the film industry. While the couple is yet to share the screen in a movie, their real-life love story continues to inspire and charm fans across the globe.
Sources By Agencies