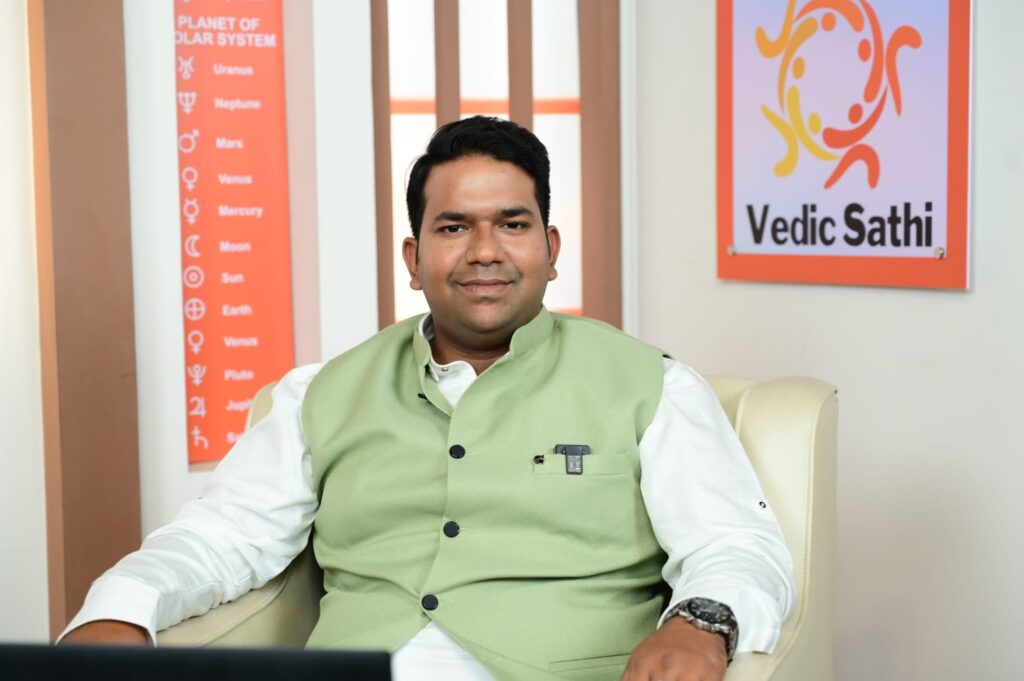 In a world filled with uncertainties and challenges, the quest for guidance and understanding is a universal pursuit. Many turn to astrology as a beacon of hope, seeking insights into the cosmic forces that shape our lives. VedicSathi, a renowned platform for Vedic Astrology, has been illuminating the path for over a decade, offering a wide array of astrological services and products guided by the profound wisdom of Gurudev Acharya Nirmal Ji. In this article, we delve into the journey of VedicSathi and the remarkable story of its visionary founder.
A Journey Rooted in Tradition and Wisdom
VedicSathi's story begins with the relentless dedication of Gurudev Acharya Nirmal Ji, a luminary in the realm of Vedic Astrology. His journey of enlightenment commenced with an early education under the guidance of Shri Ram Mangal Das Ji. This initial spark ignited his passion for the mystical world of Vedic Astrology, setting the stage for an extraordinary odyssey.
A Visionary Overcoming Extraordinary Challenges
What distinguishes Gurudev Acharya Nirmal Ji's journey is not just his profound wisdom but the extraordinary circumstances that have defined his life. At the tender age of 15, a tragic twist of fate rendered him completely blind due to corneal damage in both eyes. However, instead of surrendering to his fate, he embraced his new reality and transformed into a living miracle. His resilience and determination emerged as an inspiration to countless others.
Guiding the Way in the Celestial Universe
Today, Gurudev Acharya Nirmal Ji stands as a prominent spiritual leader, guiding people from diverse walks of life on their unique journeys. Over the past 12+ years, he has been a beacon of light for those who seek guidance in the celestial wonders of the universe. His selfless services have touched the lives of tens of thousands of people in India and across the globe.
VedicSathi: Astrological Services Rooted in Excellence
VedicSathi offers a comprehensive range of astrological services, with a focus on understanding how celestial bodies influence life and providing remedies to address challenges. From consultations with Gurudev Acharya Nirmal Ji to in-depth exploration of birth charts, numerology, and planetary movements, VedicSathi is a one-stop destination for those seeking astrological remedies and guidance.
Precise Predictions and Holistic Solutions
VedicSathi's commitment to accuracy and dedication is unwavering. The journey has seen eight years of dedicated service, reaching people worldwide and delivering precise predictions using cutting-edge technology. These predictions encompass all facets of a person's life, including relationships, career, current and future challenges, all accompanied by precise solutions.
Accessible Solutions for All
Whether you're seeking solutions to life's difficulties, short-term or long-term remedies, VedicSathi has you covered. If long-term remedies seem challenging, short-term solutions using yantras and planet-related mantras are available. The expert astrologers are there to provide specific guidance at no extra cost, making the journey towards improvement as accessible as possible.
A Multitude of Astrological Products
VedicSathi serves as a one-stop shop for all astrological needs, offering a wide range of products, from gems and yantras to bracelets and rudraksh beads. The platform also organizes Puja, Hawan, and Yagya ceremonies with experienced pandits, ensuring that recommended remedies are carried out effectively.
Unlocking the Power of Astrology at VedicSathi.com
Welcome to VedicSathi.com, a comprehensive source for all things astrological. As part of Gurudev Acharya Nirmal Ji's vision, this platform offers a wide range of astrological products, consultations, and remedies designed to unlock the power of the stars and bring positive change to your life.
Navigating Life's Cosmic Challenges
VedicSathi, guided by Gurudev Acharya Nirmal Ji, stands as a trusted source of astrological wisdom and guidance. With a focus on accuracy, comprehensive solutions, and a commitment to improving lives, VedicSathi is the bridge between the celestial wonders of the universe and individuals seeking to understand and navigate their life's journey. Explore VedicSathi.com today and embrace the transformative power of astrology, where stars not only reveal destinies but also illuminate the paths we choose to follow.
https://www.instagram.com/acharya_nirmal_vedicsathi/?igshid=MzMyNGUyNmU2YQ%3D%3D