In the realm of thought management and thought leadership, the notion that our thoughts possess transformative powers is far from revolutionary. However, delve deeper into the world of Srilekha Kaluvakunta's groundbreaking work, 'Unique Thinking Leading and Managing by Thoughts,' and you will quickly discover a thought-provoking perspective that sets it apart from the ordinary. In 2023, this book earned the coveted privilege of being listed among the prestigious Oxford books. Why? Because it describes about the framework of thoughts, Uniqueness in Thinking (UIT), Unique Thought Process (UTP), Management Objectives of Thinking (MTO) and Thought Life cycle management (TLM).
Dimensional Thinking, Search Engine Mind, Uniqueness in Thinking, Thought Leadership aspects are some of the key focus areas in her book.
In a world bustling with self-improvement and personal growth, Srilekha Kaluvakunta offers a unique and profound insight into the magic of thought through her exploration of the life cycle phases and framework of a Thought, action, and uniqueness, she ushers readers into a realm where their thoughts become their most powerful allies in the pursuit of a more extraordinary life.
For her research and innovation in the field of thoughts and for her contribution towards transformation of the people and the society, business entrepreneurship landscape and thought leadership arenas, she has received several national and international recognitions and awards.
Her recent Indian and international recognitions being
International icon Award: Most dynamic and innovative thought leader of the year.
The most valuable International Kalam's Golden Awards; listed in the Legends of Kalam's World Records, International Excellence Award for Research based writers and authors; Indian Icon Emerging Leader of the year award, Indian Achievers award, Woman Excellence Outstanding Leadership award, Asia's Top100 prominent creative and dynamic women award, etc.
The crux of Kaluvakunta's philosophy is simple yet profound: 'You think unique, you act unique, and you become unique and distinguished.' It's a mantra that challenges the conventional wisdom of setting goals and seeking external validation. Instead, the author empowers her readers to become architects of their destinies through the transformative power of their thoughts.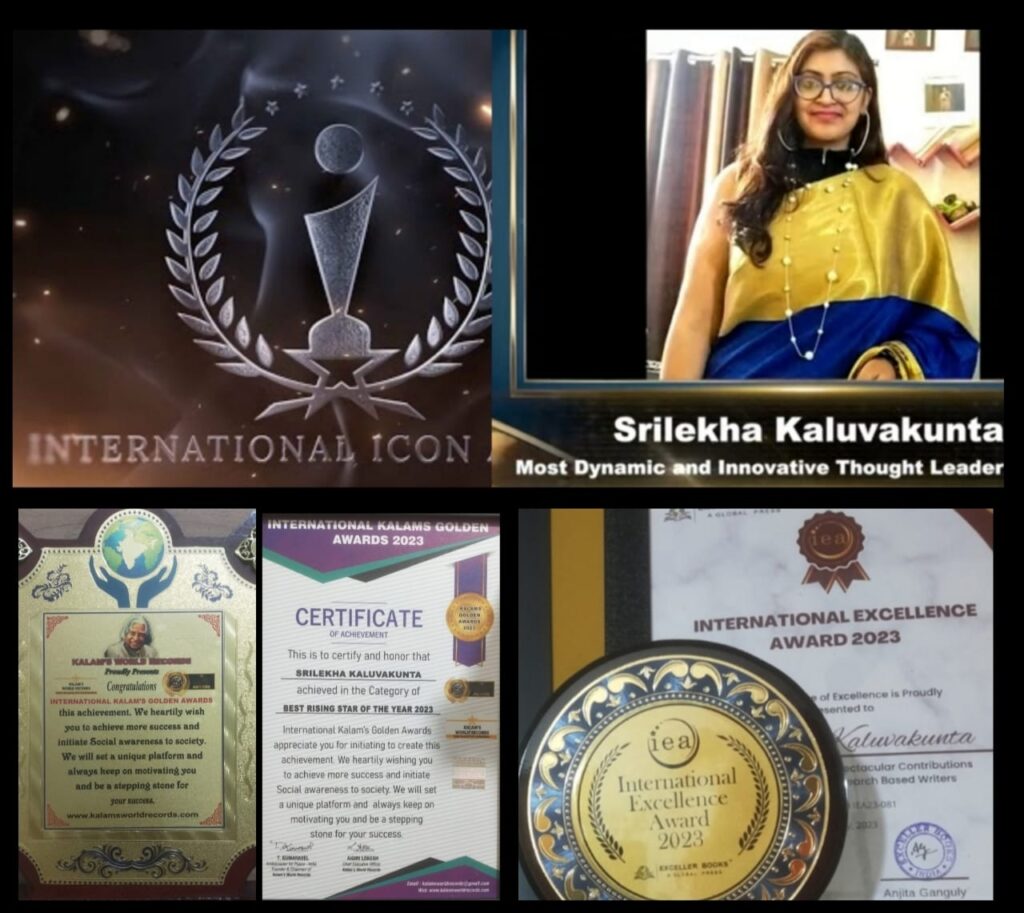 At the heart of this transformative journey is the idea that your thoughts are not mere whispers in the void; they are the architects of your reality. With an intricate blend of science, psychology, and spirituality, Kaluvakunta reveals how our thoughts shape our perception of the world, which, in turn, dictates our actions and outcomes.
Kaluvakunta's work is a refreshing departure from the conventional wisdom that often prescribes specific formulas for success. Instead, she argues that the real catalyst for transformation is understanding the unique perspectives and thought patterns that make us who we are. By harnessing the power of one's own individuality, we can break free from the shackles of conformity and embark on a remarkable journey towards personal greatness.
'Unique Thinking Leading and Managing by Thoughts' serves as both a guidebook and a workbook, offering readers an array of practical exercises and insightful anecdotes to facilitate their personal growth journey. Kaluvakunta masterfully weaves together philosophical wisdom from the likes of Plato and Aristotle with modern cognitive science and mindfulness practices, creating a roadmap for those who wish to carve their own path in life.
Through case studies, exercises, and inspiring narratives, Kaluvakunta helps readers navigate the labyrinth of their minds, identifying and transforming thought patterns that may have hindered their personal progress. She argues that it's not enough to merely think positively; one must think uniquely and distinctively to achieve exceptional outcomes.
The author's unique approach lies in her emphasis on the individual's inner world. By inviting readers to delve into the intricacies of their own thought processes, she challenges them to discover the seeds of their uniqueness and nurture them to fruition. 'Unique Thinking Leading and Managing by Thoughts' is an invitation to embark on a journey of self-discovery and transformation.
While the world of self-help literature often serves up quick fixes and universal solutions, Kaluvakunta's work underscores the importance of individuality. She encourages readers to embrace their idiosyncrasies, amplify their strengths, and leverage their distinctive thought patterns to create a life that's truly their own.
In a world that's increasingly conformist, 'Unique Thinking Leading and Managing by Thoughts' is a clarion call for authenticity, encouraging readers to embrace their uniqueness as a path to success. This book doesn't just belong on a bookshelf; it belongs in the hands of anyone who desires to lead a life of distinction, guided by the transformative power of their thoughts. As it continues to inspire and empower readers around the world, Srilekha Kaluvakunta's masterpiece promises to be a timeless gem in the realm of personal development.