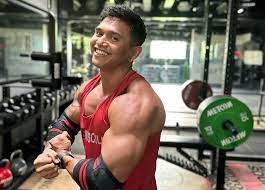 The fitness community mourns the untimely demise of renowned fitness influencer and bodybuilder, Justyn Vicky, who tragically lost his life in a freak gym accident. On July 15, while working out at The Paradise Gym in Sanur, Bali, Vicky was attempting to squat-press an astonishing 210kg with a single spotter behind him. However, the lift took a devastating turn, resulting in a fatal injury.
According to reports, the 33-year-old influencer struggled to complete the demanding lift, causing the barbell to slip off his shoulders. The immense weight came crashing down on his neck, leading to a severe injury that proved fatal. Despite the spotter's efforts, the tragic accident unfolded rapidly, and Vicky succumbed to his injuries.
Horrifying footage of the incident shows the moment Vicky's neck snapped forward as he fell to the floor. The immediate response from fellow gym-goers and staff rushed him to the hospital, but, tragically, medical efforts could not save him, and he was pronounced dead due to a broken neck.
The Paradise Gym, where Vicky had been a dedicated fitness expert, expressed their deep sorrow over the loss. In a statement, the gym acknowledged Vicky as more than just a fitness influencer, but also a source of inspiration, motivation, and unwavering support to others in their fitness journeys. His infectious energy and genuine passion for helping others had made him an integral part of their gym family.
The news of Justyn Vicky's passing has sent shockwaves through the fitness community, as many remember him for his exceptional skills and charismatic presence on social media. His dedication to fitness, coupled with his compassionate guidance, has left an indelible mark on those he interacted with.
As friends, family, and fans come to terms with this tragic loss, the incident serves as a stark reminder of the importance of safety during intense workouts, especially when attempting heavy lifts. The fitness world will forever remember Justyn Vicky's contributions and the positive impact he made on countless lives.
Sources By Agencies