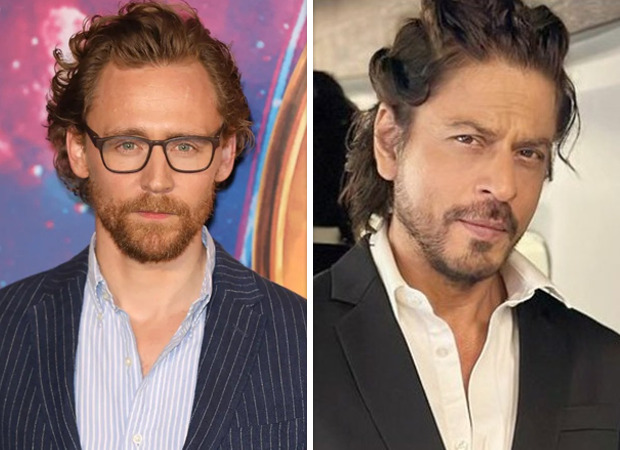 In a surprising revelation, Tom Hiddleston, widely known for his portrayal of Loki in the Marvel Cinematic Universe, has thrown the spotlight on Bollywood superstar Shah Rukh Khan, stating that the Indian actor could aptly play a variant of the mischievous character.
In a recent interview with Bollywood Hungama, when asked about his preference for a Bollywood actor in the role of Loki, Hiddleston promptly responded, "Shah Rukh Khan. He would be great. He is a good variant, I think." This unexpected endorsement from Hiddleston adds an intriguing dimension to the ongoing conversations about potential crossovers between Hollywood and Bollywood.
Hiddleston further shared his personal connection with Shah Rukh Khan's work, recalling a memorable experience watching the iconic film, "Devdas." Describing it as an extraordinary cinematic journey, Hiddleston reminisced, "I remember going to see Devdas. I mean, that's quite an old film. I remember going to see that at my local cinema, and it was such an extraordinary. I would say I have never seen anything like that. So, yeah, I remember that very much."
As the Loki actor praises Shah Rukh Khan's versatility, fans are left to speculate on the potential magic the Bollywood icon could bring to a Loki-inspired character.
On the Marvel front, the recently concluded Season 2 of "Loki" received positive reviews, with Hiddleston's character navigating a multiverse in search of truth and purpose. The synopsis promises an exciting continuation of Loki's adventures, adding layers of complexity to the character's narrative.
Shah Rukh Khan, on the other hand, has had a remarkable year with the release of two major blockbusters. "Pathaan," released on Republic Day, marked his return to the big screen, featuring an ensemble cast with Deepika Padukone and John Abraham. Following this success, "Jawan," directed by Atlee, hit theaters on September 7, featuring Nayanthara and Vijay Sethupathi in pivotal roles. Khan's upcoming project, Raj Kumar Hirani's "Dunki," is set to release on December 22, further solidifying his position as a Bollywood powerhouse.
With cross-cultural discussions gaining momentum, the prospect of Shah Rukh Khan playing a Loki-inspired character adds a new layer of excitement to the ongoing exchange between Hollywood and Bollywood.
Sources By Agencies