Riyaz Shaikh, the embodiment of passion and determination, has defied boundaries and left an indelible mark in the realms of fashion and fitness. With a journey that encompasses resilience, self-belief, and relentless pursuit of excellence, Riyaz has become a true trailblazer.
Early Life and Ambition:
From a tender age, Riyaz exuded a deep passion for sports, particularly cricket, engaging in various outdoor activities. While pursuing his sporting dreams, he maintained a harmonious balance between academics and his athletic pursuits. However, his path was not without obstacles. Riyaz faced challenges such as bullying, colorism, and body shaming. Rather than allowing these hurdles to dampen his spirit, he transformed them into stepping stones for personal growth. Inspired by the athletes he admired, Riyaz harbored an unwavering ambition to be recognized for his achievements.
Career and Milestones:
Riyaz's career trajectory took an exciting turn when he ventured into acting classes as a gateway to the world of modeling. Despite achieving success in the entertainment industry, he soon realized his true calling lay in athletics. Redirecting his focus, Riyaz began competing in renowned international platforms such as Sheru Classic and the International Health, Sports & Fitness Festival Olympia (IHFF). His extraordinary performances earned him recognition, securing the 4th place in Sheru Classic in 2019 and the 5th place in IHFF in both 2018 and 2019.
Riyaz's outstanding accomplishments led to his appointment as the brand ambassador of Spartan Sports Sciences Supplements, a prominent sports nutrition supplement company in
India. Collaborating with top-tier offline and online brands including Amazon and Flipkart, Riyaz established a formidable presence in the industry. Furthermore, he worked with Leo Nutrition and featured in a plethora of advertisements and campaigns.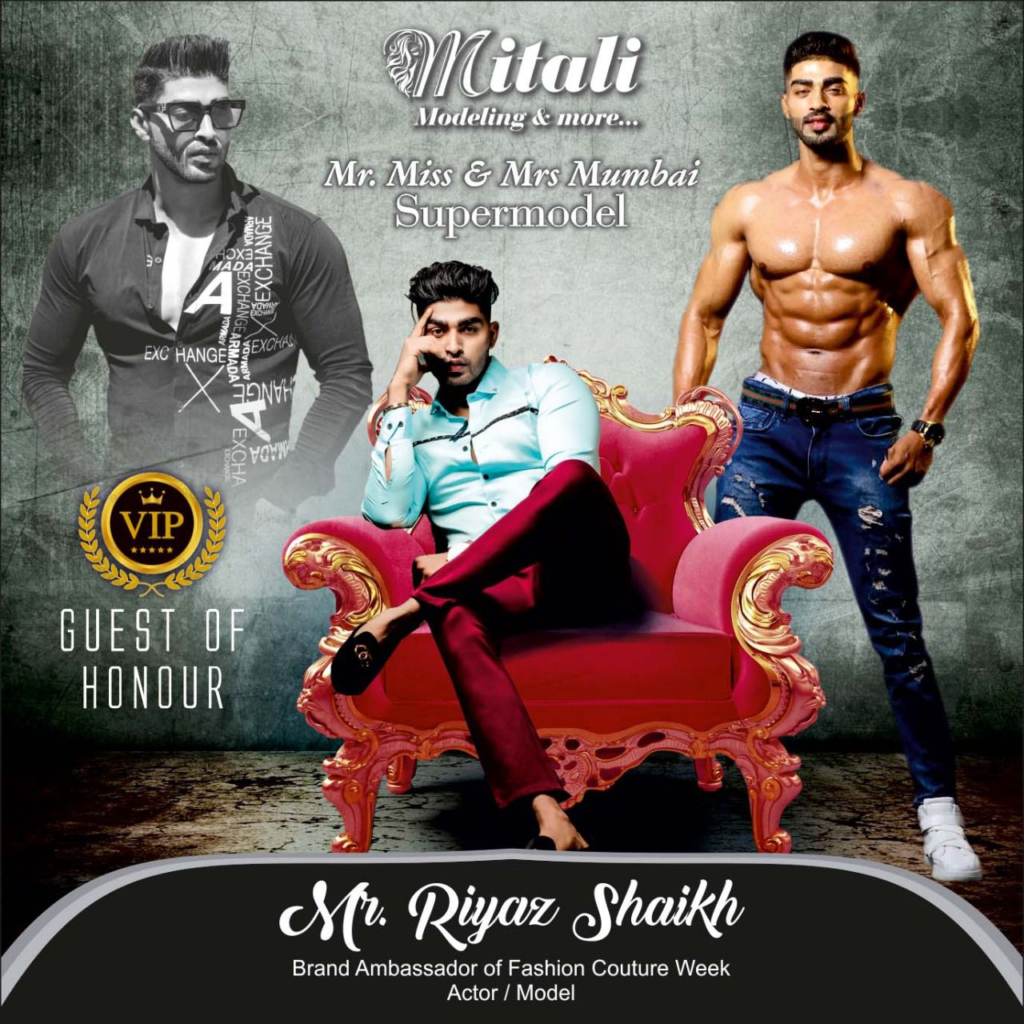 Daman Fashion Week:
Beyond his athletic pursuits, Riyaz Shaikh founded and owns Daman Fashion Week, an illustrious event that has created waves in the fashion industry. This prestigious runway show, held on March 21, 2023, showcased an ensemble of professional models, renowned designers, and esteemed celebrity guests, elevating Daman to new heights and solidifying Riyaz's status as a formidable force in the fashion realm.
Awards and Recognition:
Riyaz Shaikh's exceptional contributions have earned him numerous accolades throughout his career. Serving as a judge in esteemed fashion shows such as Mitali Modelling and Xperia Fashion Week, Riyaz has garnered immense respect and admiration within the fashion industry.
Vision and Impact:
Riyaz Shaikh's journey is fueled by a vision to inspire and make a positive impact on countless lives. As a trainer, he strives to guide and motivate individuals to lead healthier and more fulfilling lives. His remarkable achievements as an international athlete have opened doors to global modeling opportunities. Riyaz ardently advocates for self-acceptance, emphasizing that one's worth should never be measured by external judgments.
Riyaz Shaikh's awe-inspiring journey showcases his unwavering commitment, resilience, and passion for fashion and fitness. From overcoming obstacles to achieving extraordinary success, he continues to inspire individuals to pursue their dreams and surmount challenges. With his influential brand ambassadorships and invaluable contributions to the fashion and lifestyle industries, Riyaz has cemented his position as a role model and a true asset to the world of fashion and beyond.