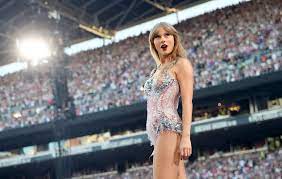 Taylor Swift's devoted fanbase, known as the "Swifties," recently set off seismic activity comparable to a small earthquake during her Eras Tour performances at Lumen Field in Seattle on 22 and 23 July, as revealed by a seismologist. According to CNN, the enthusiastic response from Swift's fans generated seismic waves equivalent to a 2.3-magnitude earthquake, reminiscent of the celebrated "Beast Quake" in 2011, triggered by Seattle Seahawks fans during a memorable touchdown by running back Marshawn "Beast Mode" Lynch.
Seismologist Jackie Caplan-Auerbach, a geology professor at Western Washington University, made the astonishing discovery when comparing data from the concerts with seismic records. The seismic activity detected during the Swift concerts closely resembled the seismic patterns observed during the "Beast Quake," as both events registered on the same local seismometer.
Upon noticing the striking similarity, Caplan-Auerbach shared her findings with a Facebook group dedicated to monitoring earthquakes in the Pacific Northwest. She quickly corroborated her observations, stating, "If I overlay them on top of each other, they're nearly identical." The unexpected phenomenon of "Swift Quakes" adds an intriguing dimension to Taylor Swift's captivating live performances.
Meanwhile, Taylor Swift continues to make history with her musical achievements. On July 17, Billboard reported that the release of her album "Speak Now (Taylor's Version)" had elevated her status to surpass Barbra Streisand, making Swift the female artist with the most number one albums in history. This latest record marked her 12th number one album on the Billboard charts.
The 33-year-old pop icon's dominance extends beyond just female artists. Swift has become the first living artist in nearly 60 years to have four albums simultaneously ranked in the top 10. The albums contributing to this impressive feat include "Midnights," "Lover," and "Folklore." Moreover, she is the first living artist to have a staggering 11 albums simultaneously in the top 200, another remarkable milestone for the multi-talented singer-songwriter.
As Taylor Swift continues to astound her audience on her highly anticipated "Eras" tour, the "Swift Quakes" serve as a testament to the profound impact of her music and the unwavering support from her passionate fanbase.
Sources By Agencies