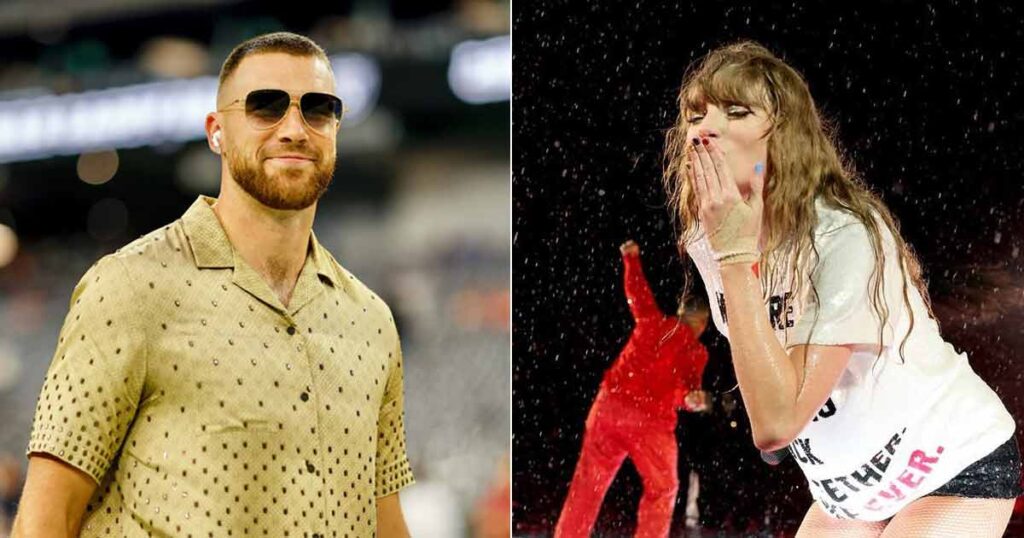 "Karma is the guy on the Chiefs, coming straight home to me," Swift sang, replacing the original lyrics that referenced a mysterious figure on the screen. The crowd erupted in cheers, and even the singer couldn't help but giggle at the lyric change. This public declaration of affection left fans in awe, with many taking to social media to express their excitement.
Following the electrifying performance, Swift and Kelce didn't shy away from showcasing their budding romance. A video capturing the intimate moment backstage surfaced, showing Kelce sweeping Swift into his arms and sealing the night with a passionate kiss. The crowd's cheers echoed the sentiments of fans who were quick to speculate that the couple had made their relationship official.
The lovebirds were also spotted enjoying a cozy dinner at an Argentinian restaurant, hand in hand, further fueling rumors of their romance. Despite the undeniable chemistry, neither Swift nor Kelce has officially confirmed their relationship, leaving fans eagerly awaiting any official statement.
Meanwhile, in a recent media interaction in Frankfurt, Germany, Kelce remained tight-lipped about Swift's potential attendance at the upcoming Kansas City Chiefs' game against the Miami Dolphins. When pressed for details about their relationship, the football star hinted at a recent reunion with the pop icon, stating, "The latest status is I got to see her last week."
Fans are buzzing with excitement, praising the couple's chemistry and Taylor Swift's cheeky wordplay. Social media is flooded with comments like, "They're official!" and "Her lyrical tongue-in-cheek moments always leave us freaking out." Some are already speculating about a potential new album if the relationship takes a different turn.
As the world awaits further developments in this Hollywood-worthy romance, Taylor Swift and Travis Kelce continue to keep fans on their toes, blending the worlds of music and sports in a love story that has now taken center stage.
Sources By Agencies