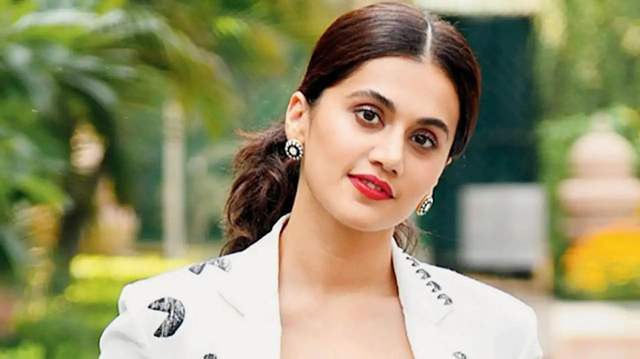 Taapsee Pannu, celebrated Bollywood actress and producer, has decided to discontinue her active involvement in promoting her debut theatrical production, 'Dhak Dhak,' reportedly due to creative differences with the co-producing studio, Viacom 18. The decision has left the film's marketing and release in a state of uncertainty, just days before its scheduled release on October 13.
Initially, Taapsee Pannu was enthusiastic about her debut as a producer and actively engaged in promoting 'Dhak Dhak' on various social media platforms. However, recent developments have seen her distance herself from all promotional activities, including the deletion of related social media posts.
Reports circulating in the media suggest that the conflict between Taapsee and Viacom 18 runs deeper than initially perceived. According to an inside source, Taapsee felt that her creative input and vision for the film's packaging and release in theaters were sidelined by the studio, especially after they had recouped their investment through digital rights sales.
The source explained, "Taapsee distanced herself from the promotions of the film because she didn't want to be railroaded by a studio just because they have recovered their investment (by selling digital rights). As a producer, she wanted a say in packaging a film and releasing a film. She's hurt that a few salaried professionals are dumping her film down the drain because they have zero emotional investment in it. She didn't want to be conveniently used and then bulldozed when needed."
Additionally, the trailer for 'Dhak Dhak,' featuring an ensemble cast including Ratna Pathak Shah, Dia Mirza, Fatima Sana Shaikh, and Sanjana Sanghi, was released only four days before the film's scheduled premiere. This minimal lead time left little room for creating buzz or generating excitement around the project.
Not only did Viacom 18 allegedly fail to promote the film adequately, but they also reportedly obstructed Taapsee's efforts to execute promotional ideas and deals that she had secured. The studio's stance, as per the source, was that the film was primarily intended for an OTT release, relegating theatrical promotion to a token effort.
While there has been speculation about whether Taapsee sold marketing rights to the studio, the source clarified that such arrangements are not typical in producer-studio contracts. The primary responsibility of the producer is to create the film within a set budget and deliver it to the studio, who then handles marketing and distribution.
In response to the situation, Taapsee Pannu stated, "I can't say anything right now. I'm just waiting for the film and audiences to see the labor of our hard work and love. I don't want it to have a mark of any toxicity." Viacom 18, when contacted for comment, did not respond as of the time of this report.
The rift between Taapsee Pannu and Viacom 18 has raised questions about the dynamics of creative control and promotion in Bollywood productions, leaving the fate of 'Dhak Dhak' in suspense as its release date approaches.
Sources By Agencies