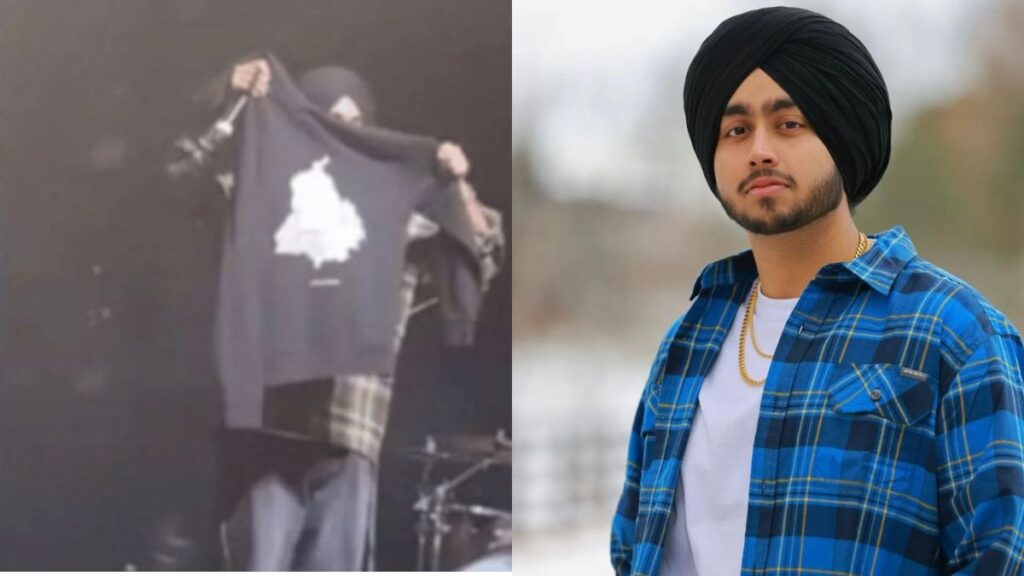 Punjabi-Canadian singer Shubh, who recently faced backlash for his alleged support of Khalistan, is once again at the center of controversy, this time for an incident involving an Indira Gandhi assassination-themed hoodie during a London concert on October 29.
The controversy erupted when Shubh was captured on stage holding up a hoodie adorned with an illustration of Indira Gandhi's assassination on the map of Punjab. The image quickly spread on social media, raising questions and concerns among the audience and the Indian community.
In response to the mounting criticism, Shubh issued a statement clarifying his position. He claimed that during the London concert, he was bombarded with various items, including clothes, jewelry, and phones, thrown at him by the audience. In the chaos, he insists he did not see the illustration on the hoodie and was focused on his performance. "A lot of clothes, jewelry, and phones were thrown at me by the audience at my first show in London. I was there to perform, not to see what got thrown at me and what is on it," Shubh explained.
However, his explanation did little to quell the controversy, as some social media users alleged that Shubh had indeed taken a look at the artwork on the hoodie before holding it up. Additionally, there were claims that the hoodie was from Akaal Clothing, which has previously been associated with promoting anti-India messages.
This incident follows a series of controversies surrounding Shubh, including his alleged support for Khalistan, which led to the cancellation of his India tour. A post on his social media account shared a distorted map of India without Jammu and Kashmir, Punjab, and the northeastern states, along with the message, "Pray for Punjab." This post stirred further outrage, as many considered it disrespectful to the territorial integrity of India.
Critics, including Bollywood actor Kangana Ranaut, were quick to condemn Shubh for his actions. Kangana Ranaut criticized Shubh for celebrating the "killing of an old woman by those who she appointed as her saviors." She called it a shameful act of cowardice and highlighted the need for respect and restraint, especially when it involves historical events and figures.
The controversy has only added to the ongoing tension in the India-Canada diplomatic relations following Canadian Prime Minister Justin Trudeau's allegations regarding India's role in the killing of Hardeep Singh Nijjar.
As this incident continues to spark debate and controversy, Shubh's actions have ignited discussions on the need for sensitivity and responsibility, particularly when public figures engage with issues that touch upon the sentiments and history of a nation.
Sources By Agencies