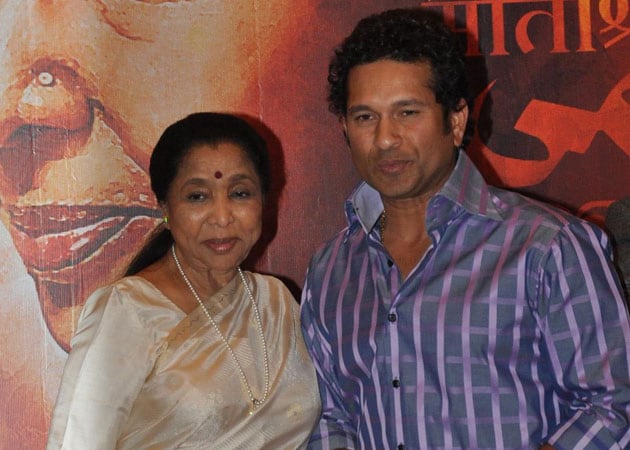 Iconic cricketer Sachin Tendulkar and legendary playback singer Asha Bhosle have long been known as mutual admirers, sharing not only their love for their respective crafts but also a warm camaraderie. On the occasion of Asha Bhosle's 90th birthday, Sachin Tendulkar took to social media to extend his heartfelt wishes. In a touching post, he shared a cherished photograph of himself and his wife Anjali Tendulkar posing with the singing sensation.
A Musical Note of Appreciation
Sachin Tendulkar's birthday message to Asha Bhosle was nothing short of poetic, as he intertwined her iconic songs with his warm wishes. In the shared image, Sachin and Anjali Tendulkar can be seen alongside Asha Bhosle. Sachin sported a stylish dark blue shirt, while Anjali chose an elegant pink outfit. Asha Bhosle, the birthday star, graced the frame in her signature light blue sari, adorned with her iconic red bindi and a pearl necklace. The trio radiated joy as they posed and smiled for the camera.
Sachin's heartfelt caption read, "Dear Asha Tai, Itne saalon se 'Chura Liya Hai' aapki awaaz ne jo dil ko, par aapki awaaz ke saamne, 'Dil Cheez Kya Hai.' Aapke gaanon par toh 'Gun Guna Rahe Hain Bhanware' aisa bhi sunne mein aaya hai. Aapka sangeet mein hona, aur usse hamari zindagi mein hona, hai sach much 'Sona Re'! Happy 90th birthday Tai! @ashabhosle."
In this heartfelt message, Sachin cleverly referenced four iconic songs by Asha Bhosle: "Chura Liya Hai Tumne Jo Dil Ko," "Dil Cheez Kya Hai," "Gun Guna Rahe Hain Bhanware," and "O Mere Sona Re Sona." These songs not only showcase Asha's incredible vocal range but also underscore her enduring legacy in the world of music.
Asha Bhosle's Illustrious Career
Asha Bhosle, the younger sister of the late legendary singer Lata Mangeshkar, began her illustrious career at the tender age of 9 in 1943, with her debut song "Chala Chala Nav Bala" in the Marathi film "Majha Bal." She made her foray into Hindi cinema with the song "Saawan Aaya" in the film "Chunariya" (1948). Since then, she has lent her enchanting voice to hundreds of songs, including classics like "Dil Cheez Kya Hai" and "Mera Kuch Samaan" from Gulzar's 1987 romantic film "Ijazat," for which she received National Awards.
As Asha Bhosle celebrates her 90th birthday, the music industry and fans alike join in honoring her remarkable contributions and timeless melodies that have left an indelible mark on Indian music. Sachin Tendulkar's heartfelt tribute is a testament to the enduring admiration and respect for this musical legend.
Sources By Agencies