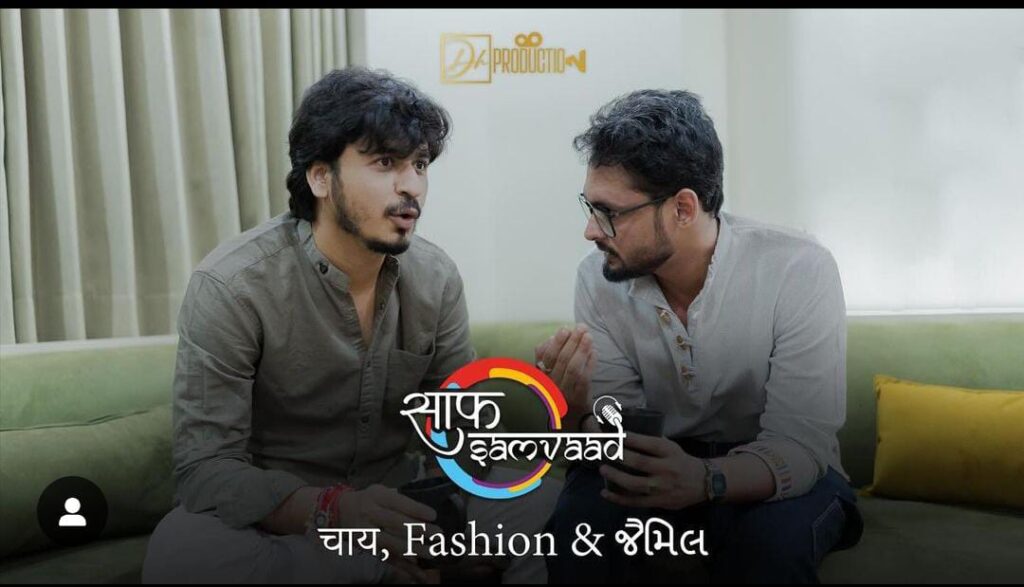 In a world that often seems divided and fragmented, fashion has a unique power to transcend boundaries and bring people together. DH Productions proudly presents the first episode of "Saaf Samvaad: Scripted by Reality," a groundbreaking series that delves deep into the transformative journeys of individuals who use fashion as a tool for empowerment and diversity.
Episode 1 shines a spotlight on Jaimil Joshi, a visionary fashion choreographer who has taken the industry by storm with his innovative and inclusive projects. Known for his pioneering work in the world of fashion and philanthropy, Jaimil Joshi has consistently broken down barriers and redefined what it means to be a fashion icon.
Hosted by the dynamic Ankur Nagdewani, this episode promises to take you on a riveting journey through the life and work of Jaimil Joshi. Ankur, an influential figure himself, brings his unique perspective and charisma to the conversation, ensuring that every moment of this episode is filled with inspiration and insight.
Jaimil Joshi, our esteemed guest, has made a name for himself not just for his creative prowess on the runway but also for his dedication to creating a more inclusive and diverse fashion industry. In this episode, you'll get an up-close and personal look at the man behind the magic, as he shares the stories and motivations that drive his groundbreaking work.
What can you expect from this episode? Here's a sneak peek:
1. Inclusive Fashion Shows: Jaimil Joshi's transformative NGO projects have given voice to marginalized communities in the fashion world. From senior citizens to Gen Z and disabled models, his fashion shows have been a platform for everyone to shine. Discover how he brings these diverse groups to the forefront and celebrates their unique talents.
2. Celebrating Oversized Models: In an industry known for its unrealistic beauty standards, Jaimil Joshi has made it his mission to redefine beauty. He'll share his journey of celebrating oversized models and how he's challenging the conventional norms of the fashion industry.
3. The Power of Inclusivity: Explore the profound impact that inclusivity can have in fashion and beyond. Jaimil Joshi will discuss how breaking down barriers and embracing diversity can lead to a more compassionate and understanding society.
This episode of "Saaf Samvaad: Scripted by Reality" would not have been possible without the dedicated team at DH Productions. Their commitment to creating high-quality content that inspires and uplifts is evident in every frame. From the brilliant editing by Hir Chauhan to the meticulous Production management by Dinu Shamnani, this team has brought the vision to life.
We would also like to extend our gratitude to our location partner, Radhe Skyline 2, New Shahibaug, Ahmedabad, for providing a stunning backdrop to our conversation with Jaimil Joshi.
So, mark your calendars and set your alarms because this is one conversation you won't want to miss. Join us for the premiere of "Saaf Samvaad: Scripted by Reality" Episode 1 with Jaimil Joshi, and let fashion become your tool for empowerment and diversity.
Follow us on Instagram at DH Productions for updates, and don't forget to tune in to Ankur Nagdewani's Instagram for a behind-the-scenes look at this captivating episode.
Fashion is more than just clothing; it's a medium for change, and together with Jaimil Joshi and DH Productions, we're taking the first step towards a more inclusive and diverse world. Join us on this remarkable journey!