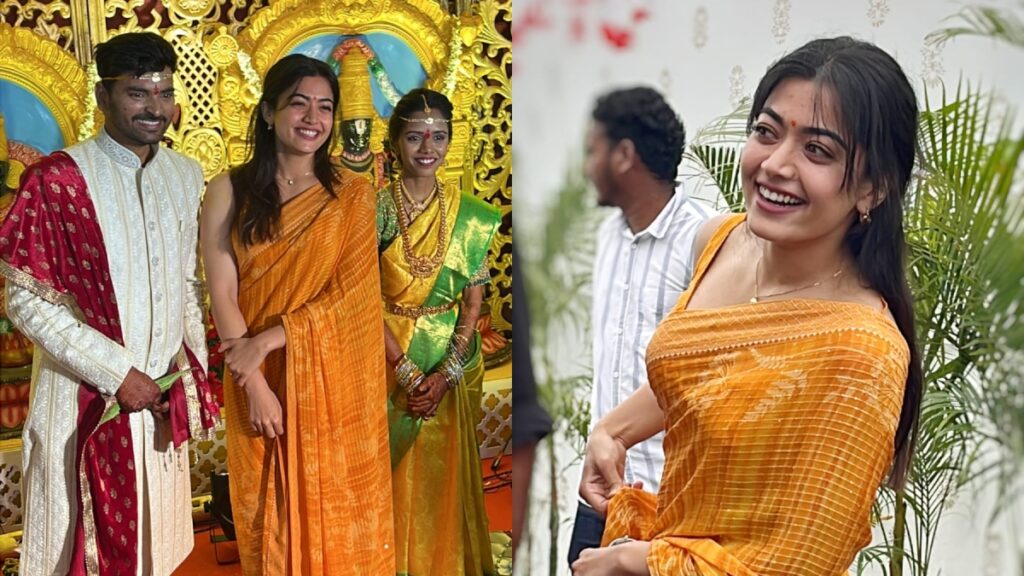 Rashmika Mandanna, the popular South Indian actress, recently graced her assistant's wedding ceremony in Hyderabad, and her elegant yet simple attire has become the talk of the town. The actress's photographs from the joyous occasion have been widely circulated on social media, garnering admiration for her beautiful and down-to-earth look.
For this special event, Rashmika Mandanna chose to wear a classic yellow cotton saree, adorned with minimal jewelry, allowing her natural beauty to shine through. She was seen posing with the newlyweds and radiating grace and warmth, capturing the hearts of onlookers.
Fans and well-wishers took to social media to express their admiration for Rashmika's timeless look. A fan page on Twitter couldn't help but compliment her, stating, "Your beauty is a reflection of your heart… so sweet. Your inner light shines bright and true, a virtue that makes you stand out in this world." Another admirer, impressed by her simplicity, shared Rashmika's pictures from the wedding, describing her as "simple and beautiful."
Images and videos of Rashmika's arrival at the wedding venue also circulated widely. She paired her yellow saree with black sunglasses, adding a touch of contemporary style to her traditional ensemble. As she made her entrance, locals gathered to catch a glimpse of the beloved actress, who took time out of her busy schedule to attend her assistant's special day.
One heartwarming moment from the wedding ceremony captured Rashmika's candid reaction. When the newlyweds respectfully touched her feet as a sign of reverence, she responded with a mix of laughter and blushing, clearly moved by the touching gesture. Viewers of the viral video were quick to commend the actress for her gracious response, with one Instagram user noting, "So sweet."
While basking in the joy of her assistant's wedding, Rashmika Mandanna is also preparing for two highly anticipated film releases. Her upcoming projects include "Animal," directed by Sandeep Reddy Vanga, known for his work on "Arjun Reddy" and "Kabir Singh." Scheduled for release on December 1, "Animal" marks Rashmika's first collaboration with Bollywood heartthrob Ranbir Kapoor and also features Anil Kapoor and Bobby Deol.
Additionally, Rashmika is set to return as Srivalli in "Pushpa 2: The Rule," the sequel to the blockbuster "Pushpa: The Rise." Starring alongside Allu Arjun, she has garnered immense excitement from fans eagerly awaiting the next installment in this thrilling franchise. The original film, directed by Sukumar, premiered in theaters on December 17, 2021.
As Rashmika Mandanna continues to captivate audiences both on and off the screen, her presence at her assistant's wedding serves as a heartwarming reminder of her endearing and relatable personality, making her a beloved figure in the world of entertainment.
Sources By Agencies