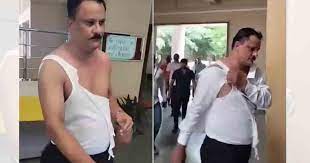 Pune, Maharashtra: The principal of DY Patil High School in Talegaon Dabhade town, Pune district, was subjected to a violent assault by members of a right-wing outfit following allegations made by parents regarding the installation of a CCTV camera in the girls' toilet. The incident, which occurred on Tuesday, has sparked outrage and concern within the local community.
According to the Talegaon MIDC police inspector, Ranjit Sawant, the parents lodged a complaint stating that the school had installed a CCTV camera in the girls' toilet and also conducted prayers from the Bible, while allegedly refusing to grant holidays on Hindu festivals. The parents further claimed that students were compelled to sing a Christian prayer during the morning assembly. However, authorities clarified that the prayer did not contain any elements related to conversion or specific biblical references.
In a viral video circulating on social media platforms, the school principal can be seen being chased by a mob within the school premises, with his clothes torn. The police have taken the matter seriously and assured strict action against those involved. An investigation is underway based on a complaint filed by one of the parents.
The police have also highlighted that the school has not lodged an official complaint in response to the allegations made by the parents. When approached for a statement, the school authorities declined to comment on the matter. This has raised concerns among the community about the transparency and accountability of the school administration.
The incident has sparked a larger debate about the right to privacy and religious practices within educational institutions. It is crucial to strike a balance between maintaining security and safeguarding the privacy of students. The allegations made by the parents require a thorough investigation to determine the veracity of the claims.
The assault on the school principal, who is of Christian faith, has been attributed to members of a right-wing outfit. Such incidents of violence and vigilantism based on religious differences are deeply concerning and undermine the principles of harmony and unity within society.
Local authorities have assured the public that they are actively investigating the matter and will take appropriate action against those found guilty of the assault as well as any potential wrongdoing by the school administration.
As this incident gains widespread attention, it is hoped that a resolution will be reached that addresses the concerns of the parents while upholding the values of religious tolerance and respect for individual privacy within educational institutions.
Sources By Agencies