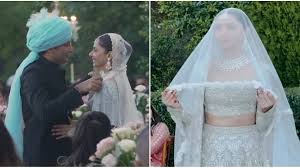 Love was in the air as beloved Pakistani actress Mahira Khan embarked on a new chapter of her life, marrying businessman Salim Karim in a heartwarming ceremony that took place amidst the natural beauty of Murree, Pakistan. This union marks Mahira Khan's second marriage, and the joyous occasion was captured in heartfelt videos that have delighted fans worldwide.
The enchanting ceremony was shared with the world by Mahira's manager, Anushay Talha Khan, who posted videos capturing the magical moments. In one of the videos, Mahira Khan, known for her iconic role in "Raees," gracefully walks down the aisle towards Salim Karim, who is visibly moved by the emotional significance of the occasion. As the groom lifts the veil covering the radiant bride, the video concludes with a heartwarming embrace between the newlyweds.
For her special day, Mahira Khan chose to don a pastel lehenga, adding an aura of timeless elegance. She complemented her attire with matching diamond jewelry that enhanced her beauty. Salim Karim, the groom, looked dapper in a black sherwani paired with a striking blue turban, perfectly complementing his bride's ethereal charm.
Niche Lifestyle magazine also shared videos from the wedding, sparking an outpouring of well-wishes and admiration from fans. Comments flooded in, with many expressing admiration for the groom's heartfelt tears, the couple's touching connection, and Mahira Khan's undeniable beauty.
Mahira Khan's journey to this joyous moment includes a previous marriage to Ali Askari, which ended in 2015. The former couple is proud parents to a 13-year-old son named Azlan.
In the realm of her career, Mahira Khan continues to shine. Fans can anticipate her upcoming appearance alongside Fawad Khan and Sanam Saeed in the Netflix series "Jo Bachay Hain Sang Samait Lo." The series, based on Farhat Ishtiaq's bestselling 2013 Urdu-language novel, promises to captivate audiences with its compelling narrative and stellar cast.
As Mahira Khan and Salim Karim embark on this new journey together, their heartfelt ceremony reminds us of the enduring power of love and the beauty of new beginnings. Congratulations pour in for the radiant couple, and their fans eagerly anticipate the happiness and success that the future holds for them.
Sources By Agencies