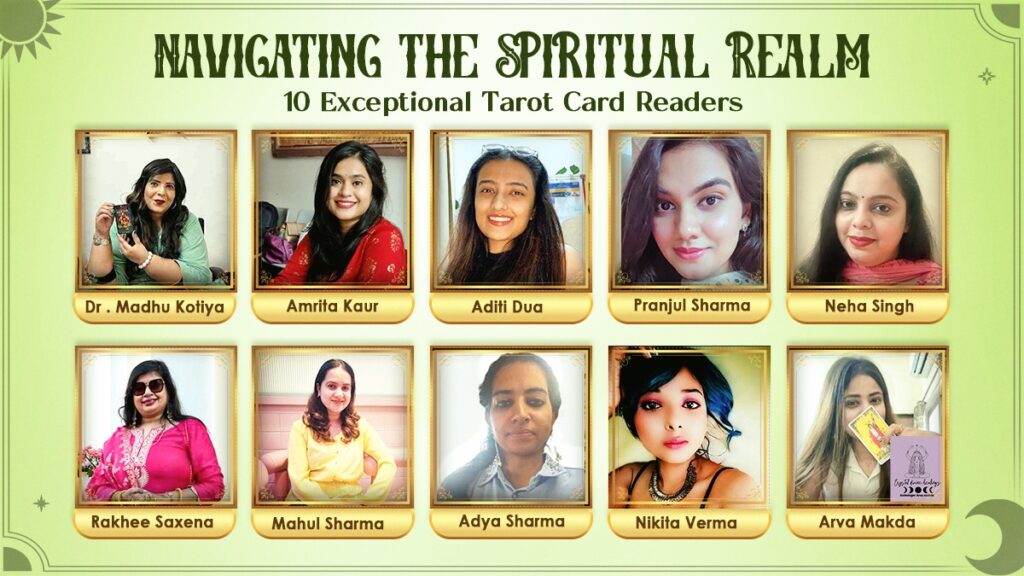 1. Dr. Madhu Kotiya
Dr. Madhu Kotiya is a distinguished figure in Wicca, Spirituality, and Tarot reading, with over 23 years of experience. Renowned for her psychic and spiritual healing expertise, she began her journey in reading energies at a young age. As the founder of Wicca India, she established the first school of Wicca in India and promotes spiritual services and international magical goods. Dr. Madhu's research articles primarily focus on Tarot's therapeutic applications for physical and mental health, and she takes a holistic approach by combining Tarot therapy, Energy Healing and counseling to aid individuals in modern urban settings.She has received honors such as the Navratna Award, Mystique Legendary Award, and Starstell Award, highlighting her significant contributions to healing and spirituality. Dr. Madhu Kotiya shares her wisdom through her YouTube channel, offering valuable insights and guidance in peaceful New Delhi.
Instagram: @madhukotiyashezaim
2. Amrita Kaur
Amrita Kaur embarked on a transformative journey five years ago that forever altered the course of her life. Driven by a quiet, persistent inner calling, she delved into the mystical world of Tarot. Recognizing the need for more than intuition, Amrita committed herself to formal training, mastering the intricacies of Tarot's symbolism and ancient wisdom. Over the years, she has helped over 400 individuals navigate life's challenges, offering a safe haven for genuine inquiries and insightful Tarot readings. Amrita's journey, rooted in compassion rather than fame or fortune, has evolved into a mission to bring understanding and hope to those seeking guidance through Tarot. As she reflects on her path, Amrita eagerly anticipates the continued evolution of her role as a Tarot card reader, grateful for the moments of clarity and transformation she has witnessed.
Instagram: @tarotwithamrita
3. Aditi Dua
Aditi, a seasoned mystical and spiritual guide, commenced her Tarot journey at 19, now boasting three years of experience that have honed her intuitive prowess. Beyond Tarot, she excels as a Face Reader, Dream Analyst, and certified Life Coach, empowering individuals to navigate life's intricacies.
Aditi's entrepreneurial spirit shines as her creation, "Panchmukhi Hanumanji," achieved Instagram fame, a testament to her profound connection with her audience. Her mission surpasses divination; she offers tangible solutions through Feng Shui, Vastu products, and the healing energy of crystals. Aditi's unwavering commitment to spiritual balance and positive energies is her driving force. Seek her guidance and inspiration at 9911787556 for your journey towards enlightenment and well-being.
Instagram : @tarotreadingsbyaditi
4. Pranjul Sharma
Pranjul Sharma, the founder of Spiritual Tarot Angel, boasts a diverse background—a postgraduate in MBA (Finance and Human Resources Management) with an unexpected twist toward spirituality and tarot. Initially skeptical, Pranjul's curiosity led her to a tarot. The astonishing accuracy of the cards turned a non-believer into a fervent advocate, and thus, tarot chose her.Pranjul's journey deepened as she mastered various healing techniques, Includes Oracle card reading, Spell Casting, Lama fera healing, Akashic record reading, Spiritual healing, Manifestation Mentoring. benefiting over 10,000+ clients. Tarot became her solace during challenging times, strengthening her spiritual connection with the universe. She believes she's a chosen one to help the people who are in need for a guidance.Pranjul's message is clear: follow your heart, embrace your unique path, and believe in your journey.
Instagram @spiritualtarotangel
5. Neha Singh
Neha Singh, hailing from Delhi, India, is a multifaceted practitioner of esoteric arts. With a rich tapestry of skills, she dons the titles of Tarot Reader, Akashik Reader, Numerologist, and Healer. Her healing prowess encompasses Reiki, Mahakali, Green Tara Maa, Red Tara Maa, Yellow Tara Maa, and Lama Fera. Neha is not only a spell caster but also a dedicated teacher and counselor, sharing her wisdom and guidance with others. Her expertise and intuitive abilities make her a sought-after figure in the mystical realm, offering profound insights and spiritual guidance to those who seek her counsel.
Instagram: @tarotnehasingh
6. Rakhee Saxena
Rakhee Saxena, a multifaceted professional, has charted an exceptional course in two distinct realms. As an HDFC Life consultant, she excels in leveraging her financial acumen to assist individuals in securing their futures through informed decisions on insurance and investments. Her dedication to financial well-being has earned her the reputation of a trusted advisor.Beyond her financial career, Rakhee is a passionate tarot reader, delving into the mystical world of divination to provide spiritual and personal insights. Her intuitive abilities and deep connection with tarot cards leave a profound impact on her clients.Rakhee Saxena embodies a harmonious balance between the practical and the mystical, empowering and inspiring those she encounters on their respective journeys through her diverse skill set.
Instagram : tarot_rk
7. Mahul Sharma
Mahul, a Tarot reader and certified Reiki healer, discovered her passion during her school days when she was entranced by the mystical world of Tarot cards. After spending over three years in the corporate world, she realized her true calling beckoned. Life-altering events shook her world, leading her to embrace Tarot. As she delved deeper into this ancient art, Mahul found her life falling into harmony. For the past six years, she has been using her Tarot expertise and three years of Reiki healing experience to guide and assist others in various aspects of their lives. Mahul's journey is a testament to the transformative power of following one's true calling.
Instagram : @newage_tarot
8. Adya Sharma
Adya Sharma, a 23-year-old Delhi native, has cultivated a dynamic path as a professional tarot card reader over the past six years. Her journey began in 2016 when her fascination with astrology and tarot crystalized into a part-time career by 2018. Under the moniker "Hekate Tarot," inspired by the protective Goddess Hekate, Adya provides more than just fortune-telling. She infuses her readings with spirituality and intuition, aiming for transformation. Her services extend beyond tarot to include crystal healing, astrology readings, and spiritual products, with convenient home deliveries.
Instagram : tarot_reader_adya
9. Nikita Verma
Nikita Verma, a former journalism and mass communication graduate from MIT, embarked on a unique journey that led her to embrace a new identity as "Angelek Vibes," a skilled tarot card reader. Despite a background in content writing, Nikita found herself drawn to the mystic world of tarot. Her passion grew as she immersed herself in countless tarot videos, honing her skills. Eventually, opportunities came knocking, and she joined the ranks of talented tarot card readers on the Salvia app. Today, Angelek Vibes caters to a growing clientele on Instagram, guiding individuals through the mysteries of tarot with wisdom and intuition.
Instagram : @angelek_vibes11
10. Arva Makda
Arva Makda, a seasoned Tarot card reader, embarked on her mystical journey in 2018. Her dedication led her through a diploma, post-graduation, and master's studies in Tarot card reading, culminating in a prestigious Ph.D. in 2022. With her knowledge and insight, she launched her Instagram page in November 2022, quickly amassing a dedicated following of over 99k followers within a year.Arva has not only gained popularity but also earned trust by successfully addressing the concerns of over 80k clients. Her unique talent lies in accurately predicting the timing of future events while providing remedies and casting spells to aid her clients on their life's journey. Arva Makda's expertise continues to illuminate the path for countless individuals seeking guidance and answers through the mystic art of Tarot.
Instagram : @crystal_divine_healings