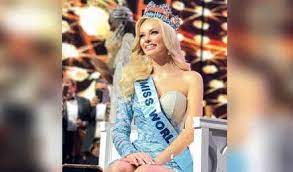 In a historic moment, Miss World Karolina Bielawska from Poland arrived in Kashmir on a day-long tour, marking the first visit of an international beauty pageant winner to the region. The visit took place on Monday, and it carried an air of excitement as the esteemed beauty queen explored the picturesque beauty of Kashmir ahead of the highly anticipated 71st edition of the Miss World 2023 pageant, scheduled to be held in India later this year.
Accompanied by other prominent pageant winners, including Miss World India Sini Shetty, the day began with a delightful breakfast at a five-star hotel in the region. The event was graced by the presence of various dignitaries, fostering an environment of camaraderie and cultural exchange.
During the day-long tour, not only Miss World Karolina Bielawska and Miss World India Sini Shetty, but also Miss World America Shree Saini and Julia Morley, the esteemed chairperson and CEO of the Miss World Organization, partook in the exploration of Kashmir's enchanting landscapes.
Joining the beauty queens were Rouble Nagi, representing the Rouble Nagi Art Foundation, and Jamil Saidi, Chairman of PME Entertainment in India. The breakfast meeting brought together these influential figures, adding to the vibrancy of the occasion.
Miss Bielawska's visit to the stunning region of Jammu and Kashmir holds a special significance, not only for its breathtaking scenery but also as a unique milestone in international beauty pageantry. As the first-ever international beauty pageant winner to set foot in the region, her presence adds a memorable chapter to the history of beauty contests.
This visit gains even more significance considering its timing. It comes just ahead of the 71st edition of the Miss World 2023 pageant, which is scheduled to take place in India. This grand event is set to unfold after nearly three decades since India last hosted the pageant in 1996.
India's proud legacy in the Miss World pageant is marked by six prestigious titles, and this year's hosting is a testament to the nation's enduring commitment to celebrating beauty, culture, and diversity on the global stage. Miss World Karolina Bielawska's exploration of Kashmir and her participation in this day-long tour signify the unity of cultures and anticipation of the upcoming Miss World 2023 pageant, promising a vibrant celebration of beauty, talent, and camaraderie on Indian soil.
Sources By Agencies