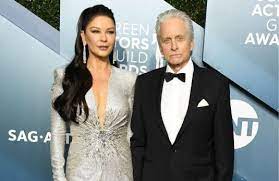 In an exciting development, Hollywood veteran Michael Douglas, accompanied by his wife Catherine Zeta-Jones and son Dylan, is embarking on a week-long trip to India at the end of November. The visit is set to coincide with his attendance at the International Film Festival of India (IFFI) in Goa, where he will be honored with the Satyajit Ray Excellence in Film Lifetime Award.
Michael Douglas received the invitation during the 76th Cannes Film Festival in May and has since committed to a packed itinerary of 78 engagements during his stay in India. The actor, known for his iconic roles, is not only here for the festival but also to explore the diverse culture and attractions of the country.
According to Shailendra Singh, a close friend and producer, "We are having a fun-filled 24 hours in Goa before his work begins on November 27. We are hosting an intimate dinner for him that night." The dinner, organized by Singh to celebrate his 25 years in the industry, will be attended by Michael and several Bollywood celebrities.
Michael Douglas is set to attend a Bollywood party during his India sojourn, providing a unique opportunity for cultural exchange and mingling with the vibrant Bollywood community. The actor's love for India was evident in his previous statements at Cannes, where he expressed admiration for the country's energy, imagination, and creativity.
At IFFI 2023, spanning from November 20 to 28, Michael Douglas will be bestowed with the Satyajit Ray Excellence in Film Lifetime Award on the concluding day of the festival. The Hollywood star has also expressed interest in traveling to a city in south India to meet and interact with prominent actors from the southern film industry.
During his previous visit to Cannes, Michael Douglas revealed his wife's affection for India, stating, "My wife will be sad as she is not here (at India Pavilion) because she loves India and she is a pretty good Bollywood dancer, too. We have not been down south. So, we want to go to the south from Hyderabad to Goa, to go around that area on our next trip."
As the Hollywood icon immerses himself in the rich cultural tapestry of India, this visit promises to be a memorable exploration of cinema, tradition, and the warmth of Indian hospitality.
Sources By Agencies